LUSU Living lets us down
987 total views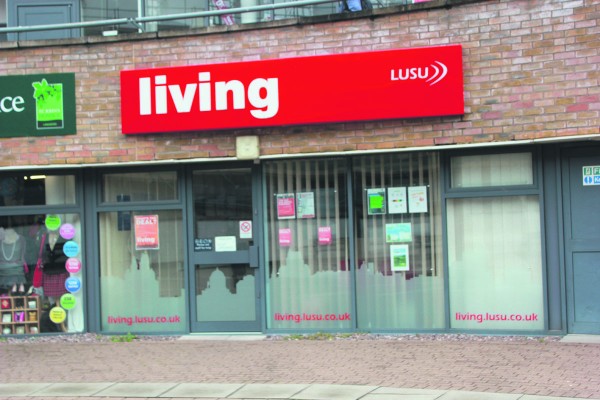 LUSU is quite a helpful establishment. They run excellent programmes such as LUSU Involve and regularly hold events such as the Campus Festival which showcase how well organised and brilliant LUSU are when it comes to going the extra mile. I would have thought this true of their housing agency too, but I was in for more of a surprise than I could have ever imagined.
LUSU Living are a letting agency which acquire houses form landlords with houses in the area surrounding the University and let them to students from the University. They offer an all inclusive rent, including water rates, electricity and gas, 24/7, 365 day a year water, electricity, drainage, plumbing and drainage cover, TV licence, internet, telephone and even a regular cleaning service among a list of other promises which you can find on their internet site. It sounds like the student dream right? A home from home if anything… right?
Wrong. The reality of LUSU Living has been an enduring nightmare and one me and my housemates can't wait to wake up from.
After signing our contract way back in Michealmas term of our first year we happily got on with our studies till it came to the summer holidays and we could get excited for off-campus life. We would have a student house, where we could have student parties and live in a room bigger than a shoebox. Though this could be true of some houses, when we got to ours, it was a very different story.
I know traditionally student houses have a bad reputation: leaky ceilings, cold showers, 70s carpet, but we were at least expecting our house to be clean. Instead we were greeted by overflowing rubbish bins in the garden which hadn't been emptied all summer, chicken bones in the lounge, a layer of grime that bleach wouldn't touch in the kitchen, a flooding toilet and toenails on my bedroom floor – among other things.
On calling LUSU Living, they claimed the house had been marked as having undergone a full clean already but they would send someone round after the weekend. By that time I had already cleaned a lot of the house but there were also a series of repairs which needed to happen. This included fixing broken curtain rails, replacing a mattress, fixing a chest of draws and replacing the lino in the bathroom – all repairs which should have happened during the summer before we moved in.
As if all this wasn't bad enough, we had to survive three weeks without a shower, a hob that fused the house every time we tried to put it on and a microwave that electrocuted everything that was placed in it. The 'cover' was not 24-hour, as we discovered. Instead after placing a complaint in in the afternoon of a Friday I was told I would have to wait all weekend before the electricity could be sorted leaving us without hot water or electricity for three days. Thankfully I persisted my case till they sent somebody out.
The cleaning service they offer is also far from regular and often I am puzzled as to what they have done at all. The office closes at 4pm so any problems you may encounter when you arrive home from uni always have to wait and if you do decide to call the next day there's never any guarantee you'll get through to their phone line anyway!
I know we are students and don't necessarily expect or indeed want to live in a house full of luxuries but when I am paying rent every week I do expect there to be some standards and provided with what I have  qbeen told I am paying for.
Maybe I am living in the worse case scenario house, which at one point we couldn't lock either, but especially as a company affiliated with LUSU I feel the standards and reputation they are emanating is not one the University would appreciate or be proud of.
Most of the issues have been kinked out now, thankfully and we have received an apology from LUSU Living, just in time for the end of the academic year. Home sweet home eh?