Battle of the Bands Heat Four – Pendle Bar
672 total views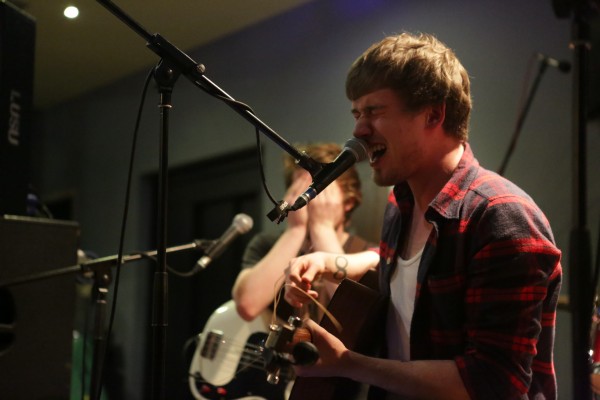 After three tense and competitive heats of Battle of the Bands taking place from north to south campus, it was time to send one last band through to the final as the competition concluded with heat four at Pendle Bar. This heat promised to be a tough one, with two of the bands already having previous experience in competing. Along with returnees Lemming Along and funk stars Underwater Gunfight, newcomers Indecisive Affection and Lake Komo were welcomed onto the stage for what was a nail-biting night.
First up were a team of four who instantly turned the heads and dropped the jaws of many who had their heads in a pint. Lake Komo sparked off the evening like no other student band I'd ever seen before with their original song Pyramid. With rich vocals and the unique sound of a harmonica, this group really grab the hearts of everyone listening. One of the big mistakes that bands make in this competition is making one instrument or one part of the band completely dominant, but Lake Komo were able to achieve a perfect balance in sound that allowed the crowd to appreciate all the parts that were weaving and blending together so beautifully. They additionally didn't bore us to tears with repetitive chord sequences and lack of momentum; their songs included features such as a harmonisation pedal and the lead singer regularly showed off his vocal range which always adds great colour to a performance. Their relaxed vibe put everyone in a great mood and the amount of variety that went into their performance in such a short space of time was extremely impressive.  Following up these guys was going to be somewhat nerve-racking.
Next onto the stage were stars of last year's competition Underwater Gunfight, whose style centres on funk, blues and ska. The prospect of following Lake Komo and living up to their stunning performances last year was always going to be daunting and unfortunately without the integral parts of Nick Webb on saxophone and Natasha Gilbert's unbelievably powerful vocal ability, the group did not meet expectations. Despite still clearly holding on to their funk roots, apart from the presence of a wah-wah pedal, this vibe was not quite as infectious and enjoyable as it had previously been. Furthermore, the improvisational aspect of their performance that was so important to their success last year seemed very unapparent this year. The vocals that replaced Gilbert this year also didn't seem to fit in with the confidence and enthusiasm the rest of the band were showing. It can be said that their performance got better as it went along ending with favourites Sea Manners and their cover of Superstition, but to headline campus festival, you have to grab your crowd from the start and based on this set, their place in the final didn't seem promising.
Rock group Lemming Along were third in the night's line up and once again were facing high expectations from the crowd. After being a newly formed band last year, the crowd were expecting to see significant improvements to their performance and some new stylistic ideas. The group kicked off their performance in a cliché but nonetheless very enjoyable way with a rendition of the Hendrix classic Voodoo Child. They slickly pulled off the guitar licks and the vocals were powerfully projected over the incredibly loud kit part which often overshadowed the guitar parts unfortunately. Disappointingly one of the guitarists chose to sit down for the entire performance which whilst not affecting the sound was a real turn off for the judges as it didn't give the band much chance when it came to judging performance enthusiasm.  Overall, Lemming Along really did prove they had come a long way since the little garage band that they were last year, but whether they had done enough for the final remained very questionable.
The final performance of the evening came from another rock group called Indecisive Affection who are a four piece group led by two very edgy looking female vocalists. Although their performance had excellent attitude and character to it, the fact that they mostly did covers and clearly hadn't quite mastered a decent balance of sound, they didn't seem like strong contenders for the main stage at Campus Festival. As a newly formed band they came out and performed very confidently and it's obvious that they have potential, but there seemed to be a consensus in the judging panel that this year was probably not going to be the year for them.
After an incredible night that had been filled with everything from chilled acoustic music to face melting guitar solos, Lake Komo were victorious as highly expected right from the beginning of the night. Despite respectable competition, their meaningful lyrics and beautifully arranged instrumentation seemed to put them in a league of their own and I think everyone can join me in saying that we wish them well in the final as I'm sure they will be a tough bunch to beat.