Battle of the Bands Heat Three – Fylde Bar
531 total views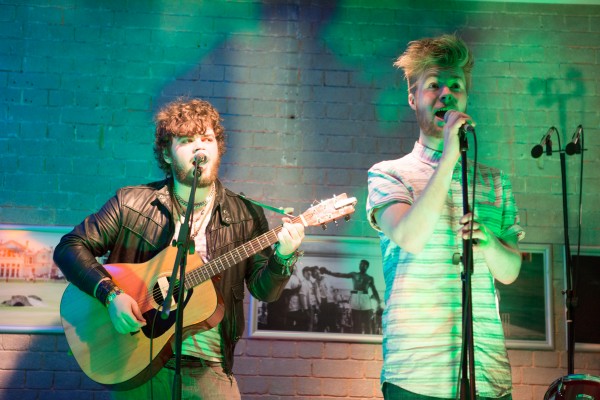 Battle of the Band round three, DING! DING! DING!
Heat three took place at The Mill, aka Fylde Bar on  the 20th February 2013. The contestants for this heat were  Sea Circuit, Sunset Boulevard, The Immigrants, and Ziggy and the Actor–  a diverse group of artists that each brought something different to  the stage.
Kicking off the night was two-piece acoustic guitar  band Sunset Boulevard. They set the bar high. With a mixture  of songs composed by themselves and an R 'n' B version of Replay' that had their own twist to it and they captivated the audience. Their  voices harmonized well producing such a full sound that made their music  really easy to listen to. There was something about them that was a  little Ed Sheeran- esque but that could have been just me picking up  on that vibe. The set ended on a catchy number that stuck with the audience.
Next up was Ziggy and the Actor, a three piece band  that featured a lead singer, a guitarist who provided some backing vocals  and a percussionist.  However, this wasn't your ordinary percussionist,  what was unique about this band was that they used a cajon instead of  a full drum kit. A cajon is a box that has a rattle inside it and when  beaten in certain ways produces an interesting sound. I was intrigued  as they went on stage, as I had never seen this instrument played before.  The band focused on acoustic covers of popular songs such as Dynamite and Hey Ya. The lead vocalist was incredible, his voice was really  soothing and the songs were quite slow but they kicked it up a bit  for the chorus- the guitarist was pretty good too. Out of personal preference  I felt that there was something missing. I felt that I was waiting for  something that I just couldn't put my finger on. Maybe a really up-tempo number? But I suppose I am just being picky.
Just as I felt myself falling into a nice and relaxing  state, The Immigrants came on the stage and turned the music up- loud!  The band was lead by a female vocalist, drums and an electric guitar.  The band offered a rocky vibe to the evening and they seemed to have  a lot of support from the crowd. The Immigrants covered some Nirvana  tracks and the vocalists voice suited these types of songs perfectly.  The band even did an original song called Immigrant Blues and  I really enjoyed it. Personally I think it was their best song and they  should have done more originals or they should write more.
Closing the evening was Sea Circuit. Another female lead vocalist who was oozing with energy, it was a shame that the rest  of the band wasn't. Unfortunately for the band the drummer was absent  due to illness so they had to play a semi- acoustic set. The band consisted  then of an electric guitar and acoustic guitar and a bass. I really  wanted to know what this band sounded like with a drummer, but I had to take them as I saw them. Sea Circuit played several original songs and all the while I was thinking about the missing drummer- but fair  play to them for not dropping out and taking on the competition without  all their members present. They also had a new bassist who looked a  little out of place but I'm sure given time he will fit right in.
It was then time for the judges Simon Clarke, Laurence  Pullman, Ollie Cox and Kirsty Lee to deliberate. After much discussion  the winner was announced… and the winner was Sunset Boulevard. The  wild card was Ziggy and the Actor who are put forward with the other  wild cards in the hopes of reaching the final. All in all the night  was fantastic and all the acts were awesome, they gave great performances  and should not be down heartened if they didn't get through to the  final, it was a tough battle.