Lancaster Rugby Players Represent North-West
625 total views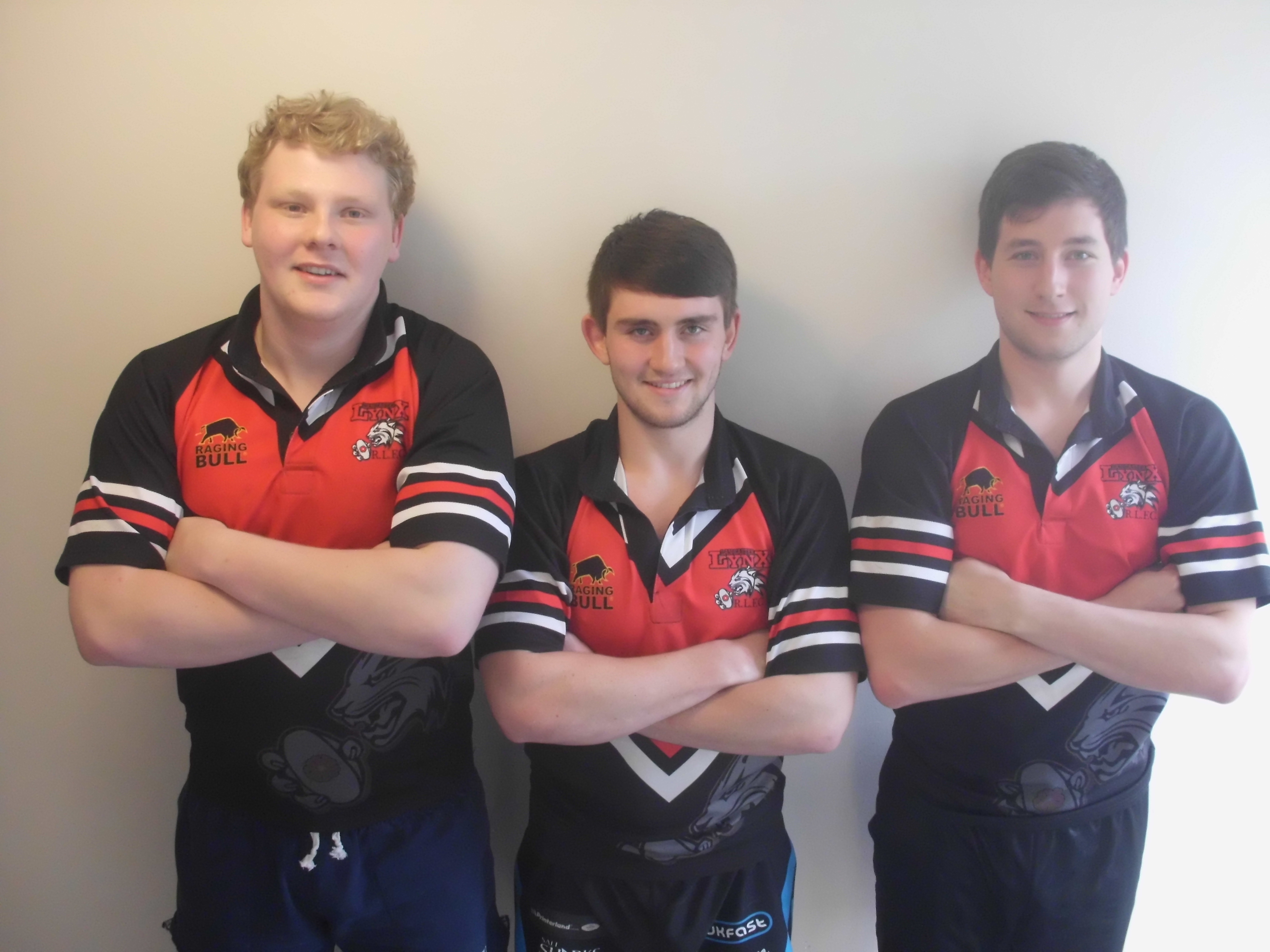 From left to right: Max Brown, Nathan O'Connor, Gareth Houghton
Three members of the Lancaster University Rugby League team have been selected to represent the North West Regional Student side in this year's Student Rugby League Festival. After another fantastic season that saw the side go undefeated in the league, Captain Max Brown, Chairman Gareth Houghton and top try-scorer Nathan O'Connor made the final cut after the Lynx saw a record number of players attend the rigorous trial weekends.The annual festival, to be held at Derby, is the showcase upon which the England Student squad is selected. Representatives from regional sides spanning the length and breadth of the country battle it out in a fierce day of competition in the hope of gaining international honours.
Lynx captain Max Brown, a third year English student from Grizedale, is set to lead from the front having been selected as starting prop forward and Vice Captain for the North West side. This isn't Brown's first representative honours, having previously played for Super League Academy outfit Hull Kingston Rovers. The two time 'player of the year' has been the cornerstone of Lynx's impressive attack this year, demonstrating a dynamic skill set that has proven to be invaluable for the Lynx this season.
Continuing the Lynx's forwards domination is back-rower and Chairman Gareth Houghton. Gareth, a third year Pendle student, is another player to have gained previous honours in the form of service area representation. Houghton has been an ever-present force in both attack and defence this year. Boasting an impressive defensive game and an eye for the try line, Houghton surely stands in good stead to represent his country.
Lynx's only back selected to represent the North West is their top-try scorer and half-back Nathan O'Connor, a third year PPR student of Pendle College. With this being O'Connor's third season of Rugby League, it would be fair to say he has hit the ground running and will leave a sizeable hole in this formidable Lynx side. Having already been invited to the Ireland training camp, O'Connor is optimistic going into the Regional Festival and possibly the Student World Cup.
The club has a prestigious history of taking players with real talent and developing them to an international standard, although such a representation has never seen on this scale before. With the very real possibility of three international players in the club, now is an exciting time for Lancaster Lynx and Rugby League as a whole.