Come to Partyland and support the Teenage Cancer Trust
654 total views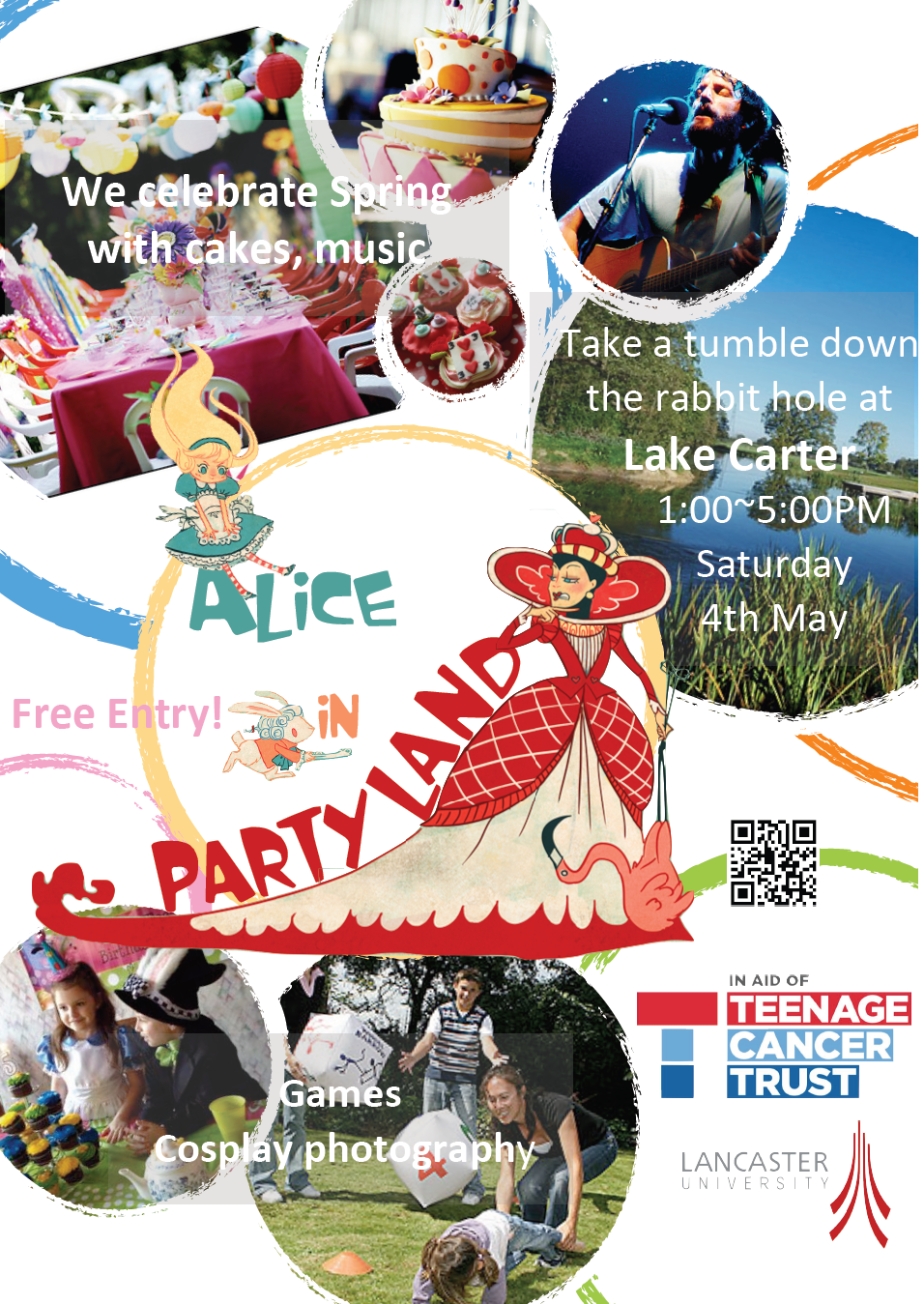 Students in need of a revision break can head down to Lake Carter this Saturday, 4 May, for that typical English panacea: a good cup of tea.
However, the lakeside venue, situated alongside the Sports Centre adjacent to the main drive, will be host to no ordinary tea-party. Students in their first year of studying Project Event Management have organised an Alice in Wonderland-themed Mad Hatter's tea-party in order to raise money for the Teenage Cancer Trust.
The picnic event, inspired by the iconic features of the Carroll narrative and advertised as 'Alice in Partyland', will commence at 1.00 pm and finish at 5.00 pm. On offer will be a selection of cakes and refreshments – enticing attendees to 'EAT ME' and 'DRINK ME' – as well as entertainment in the form of live music and magic sourced through some of Lancaster University's own student societies. David Miller, of Pendle Live fame, will be on hand as part of the live entertainment line-up.
Wenjun Xu, one of six students co-ordinating Saturday's extravaganza, explained the important work undertaken by the charity, which provides invaluable services for 17-24 year-olds diagnosed with cancer.
"The Trust supports [the young people] by helping them to make friends, and by sharing knowledge about the illness. I think they do a really good thing."
The charity's motto, 'Young person first, cancer patient second,' is encapsulated by Saturday's soiree, with its promise of bright colours and intriguing performances carefully designed to capitalise on the (somewhat belated) arrival of spring on campus.
With the work of the charity in mind, the organisers are keen to encourage as many students and local residents as possible to join in the fun this Saturday afternoon. Entry is free, and the invitation is extended to all students and locals alike. The organisers encourage their peers to raise the profile of the event through word of mouth and social media, and to turn up with as many friends in tow as possible on the day.
"We want as many people as possible to come. We have food, we have drinks, we have games, we have live music and a magic performance," Wenjun Xu told SCAN. "The weather is fine, and there will be tables and chairs provided so you won't even have to sit on the grass!"
So, what better way to ease the revision headache than an afternoon of entertainment in aid of an exceedingly worthwhile cause? And did we mention they'll have cake?