Joshua Radin – Interview and Preview
632 total views
Due for release on the 7th of May, 'Wax Wings' is Joshua Radin's fifth studio album and his very first self-release. Renowned for his peaceful pop, Radin's musical successes are usually classic combinations of whispery vocals and subtle acoustics, with previous songs often recognised as backing tracks for emotional TV moments.  I get the chance to ask the artist a few questions about himself and what his new album has to offer.
L: Can you explain the title of your new album? What is this referring to?
J: It's a reference to the Greek myth of Icarus, who flew too close to the sun on wings made of wax. It's an allegory that relates to ambition… sometimes when it comes to relationships, I fly too close to love and get burned.
L: Soft acoustic feel-good pop seems to be a winning formula for you, do you ever think about diverting into a different genre?
J: I have a bit on the 'The Rock and the Tide'. I love rock music but my voice is so breathy… it's difficult to cut through all that sound, and then the lyrics tend to get lost.
L: You come from quite an artistic background, what made you move to music as your means of expression?
J: It's not about changing; it's more about exploration and experimentation. Maybe I'll study architecture some day… whatever keeps me inspired.
L: Your tracks have managed to become backing tracks for TV and films over 75 times, how has this impacted your music?
J: I don't really watch the shows and movies my songs are in because a lot of times the editors will cut an important section of a song to make it fit with a scene, so I'd rather not see them. But yeah, obviously TV and film have become the new radio, especially for an indie artist like myself.
L: Finally, if you could pick one musician to collaborate with, who would it be?
J: Hmm, so many on my list! After working with Patty Griffin it's all downhill, ha. She's one of my favorite all time songwriters, and hearing our voices together on 'You Got Growin' Up To Do' is still the only time I got chills. But one day I'd love to sing harmony with Paul Simon.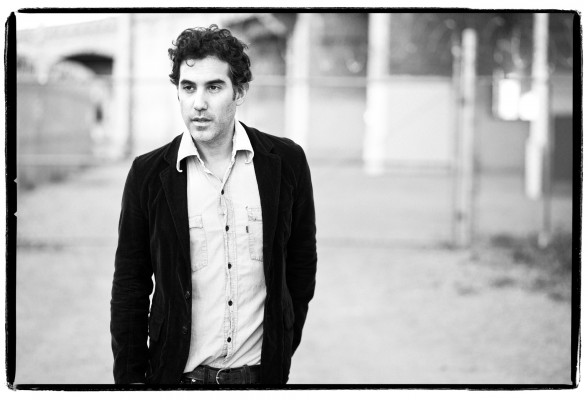 'Wax Wings' is definitely an album that has come from the heart. Radin draws on past and present feelings, and like his previous albums he strives for an emphasis on lyrics rather than complex instrument parts. Just looking at the track list tells you quite a lot about the general mood of the album- titles like 'Beautiful Day', 'When We're Together', 'Lovely Tonight' and 'My My Love' prepare you for the 33 minutes of sickly sweetness that this album offers. That being said, none of the songs are particularly long so are certainly just about tolerable if you're in a happy mood; Joshua Radin's vocals are very difficult to dislike, and accompanied by a couple of acoustic instruments he can't really go wrong.
This is a deeply personal album, the kind of personal that sort of makes you feel like you probably shouldn't be listening. In 'Like They Used To' Radin divulges things like 'I want my clothes to smell like you', which is all very lovely but perhaps ever so slightly awkward for everyone not involved. I suppose he can at least be applauded for his honesty, even if it is a bit soppy. It's not all that bad, though, and I think I could still classify 'Wax Wings' as an easy listening album. 'Back to Where I'm From' is a personal favourite that I can definitely see being used on an American sitcom sometime in the near future, and could actually do with being a bit longer than it is. First track 'Beautiful Day' has a catchy tune that is not too heavy on sentimental slushiness, and has a mandolin part so therefore it has to be good.
He can't be accused of sticking entirely to simple happy pop in this album as tracks like 'Lovely Tonight' have distinctive classical hints, and there is a level of instrumental variation from song to song even if the lyrics seems to blur into one big candy floss cloud of sugary soft sentiment. Despite my obvious cynicism, 'Wax Wings' is undeniably a lovely and peaceful album that is perfect for sunny summer days. I really do hope that it is successful for him as I don't think he could have possibly managed to put any more love into it.