3 Gigs In 3 Days
800 total views
Stereophonics – Phones 4u Arena
The best live rock vocal I have ever heard. Genuinely. All night, Kelly Jones's voice sounded as if it had been lifted straight from the records. His delivery was passionate and powerful, he didn't get a note wrong and he held the attention of the whole stadium for the whole hour and a half. The setlist itself was perfect: all the classics, all the best songs off the new album, and even some of the great lesser-known tunes from their 16 year discography. It really did act as an unnecessary reminder for how many brilliant tracks they've had. One thing that was missing was the iconic clarinet from Handbags and Gladrags (how hard could it have been to mic one up, really?), but other than that, the music was absolutely phenomenal.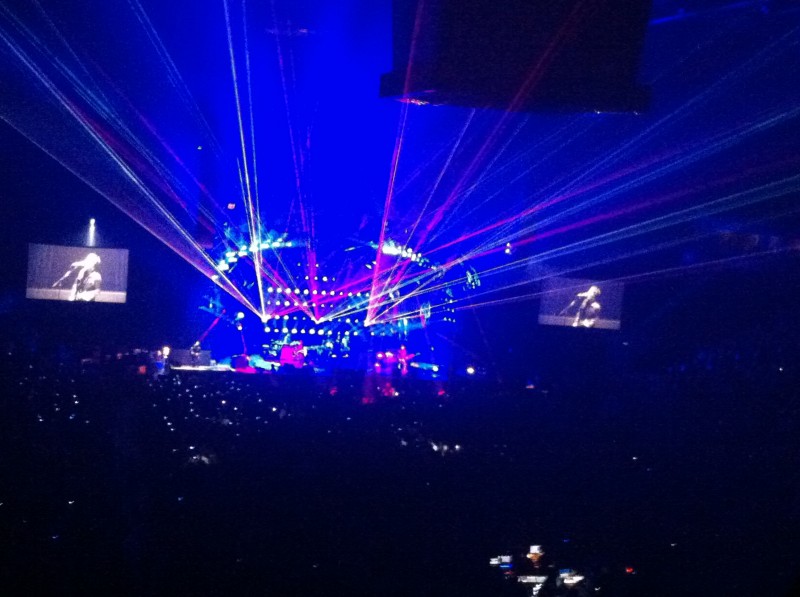 An unexpected turning point in the night was when Tom Jones turned up and sang Mama Told Me Not To Come with the band. Now I'm not a huge Tom Jones fan, but it was hard not to appreciate this fleeting performance. Just as it was hard not to appreciate the support act, an acoustic duet called the Wind and the Wave, probably the best "unknown" support I've ever seen. I will definitely be checking out their album when it comes out next year.
The Phones 4u (previously the much-less tacky "MEN") arena is huge. As I got my ticket late, I was seated in the top tier, so switching between watching a miniscule Kelly Jones and the screen was inevitable. Instead of the screen just showing the one shot all the time, there were artistic angles, image layering and even short films, so it was enjoyable to watch. I probably would have enjoyed the gig even more if I'd been nearer the front, but at least my legs weren't achey. The sound quality did deteriorate towards the end of the night, with a bit too much humming and audio feedback, but sometimes this is expected at massive venues as it's hard to maintain a good level of sound over such a huge space.
What I couldn't believe was how many people, just in the "civilised" seated section, were getting drunk. One lad behind us was stood on someone's shoulders before he fell off, several rows below and landed on a woman. Bearing in mind we were on the top tier and only three rows from the front, if he was one row further forward he would have fallen to his death. Maybe I'm being an old man.
Scouting For Girls – O2 Apollo
A pop music break to split up the rock bands? Kind of. Scouting For Girls' bassist Greg Churchouse told me that he actually considers them to be a rock band when they're playing live, and I can see what he means. No track, no over-dubbings, all playing their own instruments – the kinds of things we would expect from a live rock band. But their catchy, up-beat songs are so slick and typifying of pop music that I felt the performance could have done with a bit of polishing up a bit to compliment them: The backing vocals often sounded louder than the lead and the set was quite guitar heavy (despite the keys being the most prominent instrument in many of their songs).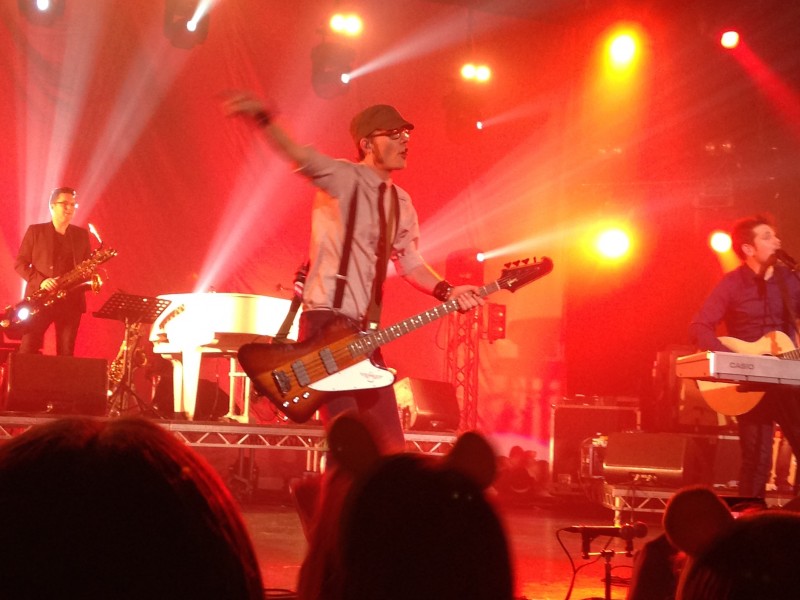 The staging of the gig was strange. Greg (bass and backing vocals) was usually the furthest forward and the most central on stage, especially when "front"man Roy was sat further back on the piano. The other founding member, drummer Pete, was pushed to the side a bit, with more attention on touring guitarist Jamie O'Gorman and the horn section (which of course was a nice addition).This poor levelling was made up for by the energy Roy Stride put into the performance. Of the three bands, this frontman knew best how to work a crowd. Even when playing his multiple instruments he was dancing round the stage, doing everything he could to get everyone having a good time… including joining the audience in the circle! I was three rows from the front in a venue that's much smaller than the Phones 4U Arena (the Apollo is actually an old theatre), so felt a lot more involved than when I was watching Stereophonics from the clouds.
As critical as it may sound like I am being, I must stress that I still really enjoyed myself. Their music is hard not to enjoy, and they were the most visually entertaining of the three bands. I was just expecting a slightly more polished performance as we get on their records.
The support act, Loveable Rogues, were anything but. Known for being on Britain's Got Talent, they spent the whole of their set trying to flog t-shirts and their "new EP thing" to the audience.
Beady Eye – Manchester Academy
I don't want to brag about how close to the front I was, but Liam Gallagher was able to show approval of my T-Shirt (as our sports editor Erik can vouch for). It did have his own face on it to be fair, but it's this self-belief (some might say arrogance) that makes Liam Gallagher so appealing – he is so sure of himself, it makes for an extremely powerful performance when done right.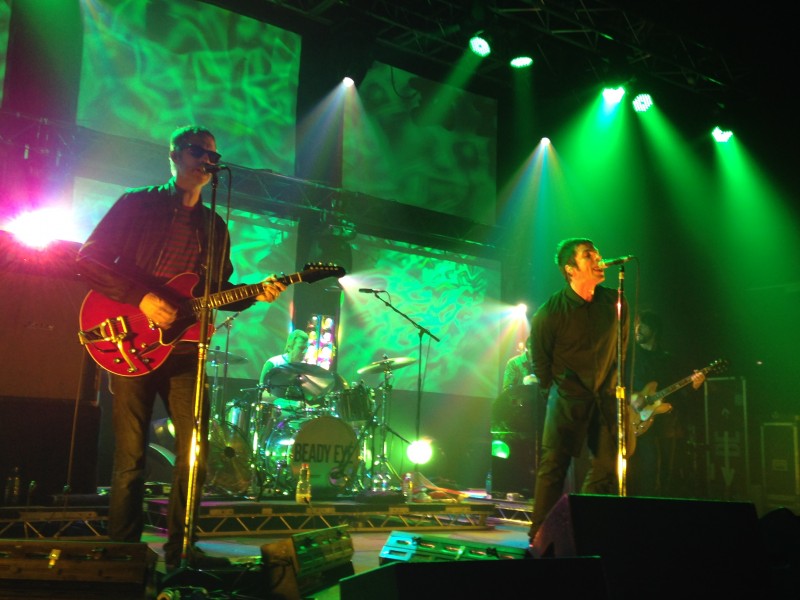 So did he get it right? Liam's band have had a lot of stick since they crawled from the wreckage of the Oasis fallout: his songs have been called weak when compared to the high flying musical pursuits of older brother (and Oasis's primary song writer) Noel, and a disappointing performance at last year's  Olympic closing ceremony in front the whole country was a missed opportunity in winning people over.
At the Academy though, they nailed it. Everyone was enjoying the music that, let's face it, is no way near as well-known as it would have been had it fallen under the "Oasis" banner, and Liam could be heard quite clearly above the multiple guitars and chanting. The highlight of the night was my all-time favourite Oasis song (one of the few they sung): Live Forever, which Bonehead, one of the founding Oasis members, made a guest appearance for. It sounded great and went down a storm.
The atmosphere in the Academy (the smallest of the three venues) can only be described as mental. Whereas I seemed to be one of the younger members of the Stereophonics audience and one of the older ones at Scouting For Girls, here everyone seemed to be around my age, full of energy and out for a good night. Apparently many people's idea of a good night is throwing beer around, crowd-surfing so they could get acknowledged by Liam when they were dragged over the barrier, and just general rowdiness to the extent that there were actually a few fights started. It's all a bit much really, and my girlfriend was crushed against the barrier for most of the night due to the miniature riot behind us, but we should have expected nothing else.
The support act, if we can call it that, was the third Gallagher brother, Paul, DJ'ing. It was not clear when his set started, what he was doing other than pressing play, or why he was there (other than perhaps a bit of sympathy from his younger brother for getting the raw deal in the family's talent deviation.) We then went to the official aftershow party… which was him again.
I have to say that the Beady Eye gig finished my Manchester tour with a bang, and I enjoyed it the most out of the three. They didn't sound as amazing as Stereophonics, but being in the front row of a mental gig starring the remainder of my favourite band was something I won't forget in a long time.