Home away from home: how to personalise your university bedroom
708 total views
You have been living in your campus cell for a term now, and the glaring white walls and pile of pizza boxes are making you feel existential. Perhaps, if you are anything like I was in first year, your room has become a "getting-ready-for-a-night-out" station, and your desk is juggling functions as a work space, makeup table and bar. It is time that you play a game of 60-minute-makeover and transform the hellish clinical prison into a home.
As pretentious as it sounds, your bedroom articulates your personality – it is the only private and personal space that you are given at university. It houses your possessions, acts as a work space, but perhaps most importantly, it is a blank canvas upon which you can metaphorically paint your personality. You need to be comfortable and at home in this box, and the way in which you personalise it allows your friends to gauge an impression of your interests and nature. My flat mate Ryan, a total OCD clean-freak, has measured the distance between the picture rail and his posters, and lined them up with a right-angle measurer from B&Q. Jade, who is loud, bubbly and obsessed with Disney, has transformed her bedroom into a kaleidoscopic den of fluorescent fuzzy cushions and stuffed toys.  Anybody could match these two to their bedrooms from a lineup.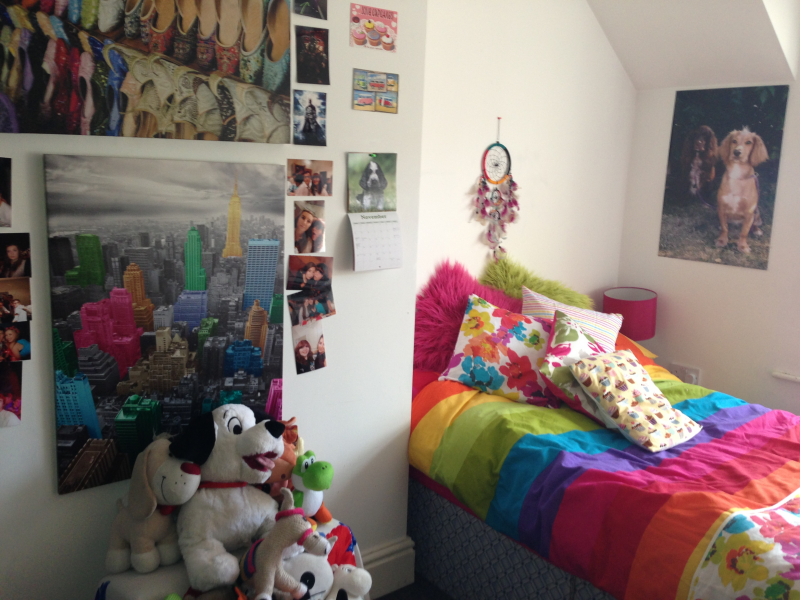 The rules of university bedroom décor:
 Wall art
Tearing pages from your favorite magazines or sticking up movie posters is an affordable way to transform your blank walls. I have covered mine in clips from Vogue and LOVE magazine – Tim Walker photographic spreads that resonate gothic romance. I have also put up a couple of Breakfast at Tiffanies film posters, and cover art from my two favourite novels – The Great Gatsby and The Catcher in the Rye. This is cheap, easy, and reflective of my cultural influences. If you love a particular band, or are inspired by a work of art, then pay homage to them, by fixing them to your walls.
Photographs of university memories brighten the bedroom – studentbeans tend to have offers on multiple prints. Do be prepared to walk into a flat mates room to find some horrific pictorial evidence of some of your night out antics though!
Furniture
When I moved into my house in town, I invested in a few pieces of furniture. I found a floral Lloyd Loom chair at a car boot sale, and a bedside table with James Dean's face on it on sale in Lancaster's interior shop. Furniture that isn't from IKEA can individualise your bedroom, and it doesn't have to be expensive.  At Lancaster Leisure Park is an Antiques Centre that houses bargains.
 Home Made
This is massively pathetic to admit, but I actually have Beano bunting in my bedroom (yes, the comic book we all remember in our 90s childhood). Why?  I like the Beano, and I like bunting, and I thought the two would marry well. You don't have to spend money to exhibit your interests and aesthetic passions in your bedroom. If you want a romantic ambiance, throw some netting over the window to mock soft lighting. If you want to brighten your wardrobe, cover it with a few floral or paisley material free samples from an interior shop. Pretty gift wrap works well too.
 Noticeboard
Invest in a noticeboard. You can pin up family photographs, Freshers week and festival memories, gallery and plane tickets etc.