Jingle my bells, it's Christmas!
1,489 total views
Think it's too early to start worrying about Christmas this year? It's not. As the weather turns cold and the holiday season starts drawing nearer and nearer, you may want to start giving some thought to what you're going to wear. No, we're not talking about the bright Santa hats and tacky Christmas jumpers you're forced to pull out of your wardrobe every single year. It's what's underneath that counts, or at least it is when it comes to your favourite novelty underwear.
After all, you know that it truly is the most wonderful time of year when wearing your favourite reindeer-covered knickers is not only not frowned upon, but even deemed socially acceptable. Check out more of this year's best Christmas underwear as you get some stocking stuffer ideas for both you and your partner. Be warned, though: donning many of these 'jolly undies' will require a serious sense of humour.
New Look
Admit it: you've always wanted an excuse to pick up a pair of reindeer undies. Well, you can stop pretending that you don't need them, as these goofy Rudolph briefs (£2.99) from New Look are at once a fun and festive way to welcome in the season.
Boys, if they're willing to get over the awful pun, these cheeky "Jingle My Bells!" boxer shorts (£5.99) will be sure to prove very popular with the lady.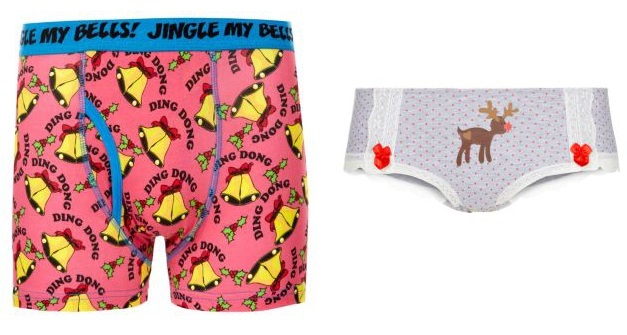 Topshop 
So you're not really feeling the Christmas spirit this year? That's alright. Unveil your inner Ebenzer Scrooge with a pair of "Bah Humbug!" (£4) boypants from Topshop instead.
Whoever said that reindeer undies were just for the ladies was very, very wrong. Now both you and your sweetheart can wear matching Rudolph pants (this sexy pair of red stag boxers goes for £7) as you cuddle together by the fire. Or under the mistletoe. Are you starting to notice a theme here?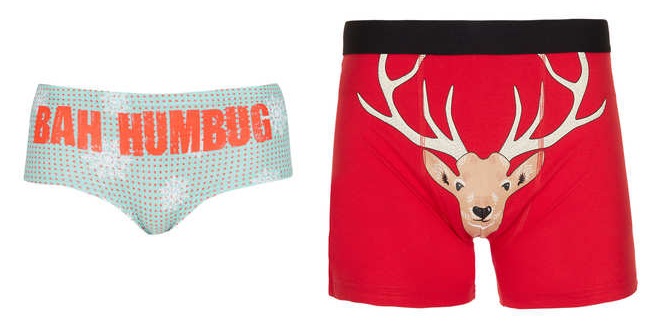 Matalan
While this pair of granny panties from Matalan (£3) can hardly be called sexy, they are at once cheery and comfortable. Just the thing you need to help you sit through yet another holiday dinner.
Why go all out with a full-on Santa costume when a pair of Saint Nick boxers (£4) will look just as nice? Become Santa for the night in these spicy drawers, but do not attempt to climb down any chimneys with them on. Seriously, we warned you.
Urban Outfitters
Wear your Christmas greetings on your bum with these saucy 'Merry Christmas, Bitches!' knickers (£6) from Urban Outfitters. Don't forget to pick up the equally brass and bold 'Happy F*ckin' New Year' pair as well.
Next
And if, in turn, you're really feeling the Christmas spirit this year, be sure to pick up a 3-pack of reindeer hipsters from Next for £19.