Want a taste of eccentrism and live streaming? Welcome to London Fashion Week 2014
510 total views
5 days, 24 presentations of podiums echoing beauty, youth and innovation brought to a whole new level!
London Fashion Week is rated as one of the most luxurious and highest profile fashion events in the world and not to mention, it is considered to be an international inspiration. Placing London and British Fashion solidly on the global stage, leading to orders in the region of £100m; LFW itself contributes £20 million to the London economy in terms of direct spend and attracts visitors from over 25 countries including US, France, Italy, Russia, Middle East, China and UAE.
This year, the event took place at the major arts and cultural centre in the heart of London, Somerset House, with Designer Showrooms showcasing over 170 brands. Whilst the Spring/Summer15 collections were exhibited to press and buyers over the course of London Fashion Week, including designers like Alexis Barrell, Georgia Hardinge, Joanne Stoker, Lucy Choi London, Maria Francesca Pepe, Steven Tai and Tamara Salman.
The showrooms welcomed 84 fresh designers whose signatures went from subtle to opulence along the way – and I'm talking accessories, colours, makeup, prints and cuts! The presentation was a true cocktail. Some even tried to merge the outfits with an eccentric background, transforming their exhibit into a unique show!
Laura Bailey considers LFW a 'combination of original, talent and up and coming designers", which seems legit – many took advantage and presented a true exposition – does Anya Hindmarch ring a bell?
Her show was literally earth-moving! The seating was on revolving floors to give editors a 360 degree of her spring/summer 2015 show. Anya's new It bags complemented this season's theme of school girl customization, her childhood habit for sticking stickers on her school books being represented by leather.
Womanhood à la Tom Ford !
The Ford target this year was to express an edgy feminity – he sticked to the dark tones while creating cuts and tailoring meant to highlight a woman's features. His choices in matters of fabric went from leather to metallic cloth – cute neck lines to show effeminacy, been-up-all-night spiky hair and nightclub-ready smoky make-up, dark leggings and statement heels were the key to a successful presentation. They say Ford was inspired by his own collection of vintage Carlo Molino photographs in addition to some of his own designs from the late Nineties.
Who said Art is easy?
If 'Peter Pilloto' became the symbol of prints seasons ago, well now, the brand decided to pull off the idea and move on to something new. Their message was pretty much complex but they sticked to simple shapes and short hemlines, wide trousers and longer dresses.
Each piece was laden with surface texture: stained glass window panelling on coats, the swirling embroidery, the crystals, the tinsel, the 3D flora and macramé, and Perspex.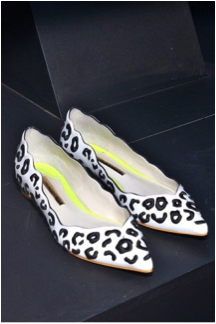 Think like a lady, Dress like a man!
Apparently this was Youjia Jin's motto for this season's collection. She went for neutral colors, combining wool and sturdy fabrics – creating a balance between a manly appearance and a sassy look. The models wore a very simple makeup, and plain hairstyles to match with the outfits.
'Yes' to freedom, from fashion!
Vivienne Westwood decided to let the clothes highlight her political view in the matter of Scotland – she encouraged the country to vote for independence from the UK at this week's historic referendum.
But as far as the outfits are concerned, she opted for dramatic makeup, and oversized tailoring and shirts in pale blue, or floral prints.
Good girl gone bad?
Sophia Webster definitely won't take the risk of becoming boring! "I JUST wanted to move it on from the last few shows," she said, "Because the brand is often thought of as being very girly. But it's got attitude". So the result was a graffiti maze hidden in Southbank's vaults with bikini-clad girls, along with jungle music blaring in the background, and another model hiding around another graffiti-ed corner. Her shoes definitely stood out – yum!