Everyday Make-up: A Day In The Life Of My Face
441 total views
As most my friends are well aware, I get onto campus ridiculously early in the mornings. Therefore, I have a habit of sitting alone in The Learning Zone at 8:00am and applying my make-up. It gives me something to do whilst I wait for the rest of the university to wake up, and means I don't have to do my make-up at 7:00am when I stagger out of bed!
So today, while I was going about my morning make-up routine, I noticed how pretty all my products looked on the desk. After some a little artistic placement, I decided to let you all in on what goes on my face for a typical day at university.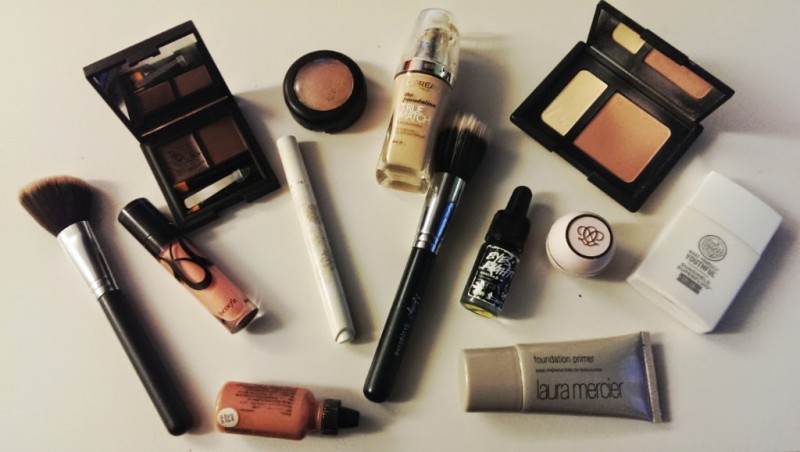 Base:
– Soap & Glory Sunshield Superfluid SPF 50+
– Laura Mercier Foundation Primer
– L'Oreal True Match Foundation in N1, applied with Nanshy Stippling Brush
Cheeks: – NARS Contour Blush in Olympia, applied with Nanshy Contour Brush
– Daniel Sandler Fluid Blush in Chic, applied with Nanshy Blusher Brush
– Paul & Joe Illuminating Touch Pen in Neige
Eyes:
– OFRA Eyeshadow in Bliss
– LUSH Eyes Right Mascara
– Sleek Brow Kit in Dark
Lips:
– Oriflame Tender Care Protecting Balm
– Benefit Ultra Shine Lipgloss in Life On The A List
Et voilà; my face is complete. Two of those base products (SPF 50+ and primer) are absolute musts in my book. The sun protection is just common sense, (yes, even in February!) and the primer just ensures everything stays in place. Apart from that, it varies from day to day.
So this is what I looked like at 8:20 this morning! The fluorescent lighting has washed the blusher out and flattened the highlighter's effect, but you can see the slight contouring on the right hand side. The LUSH mascara is incredible; it's impossible to make it clump (I've tried!) and it looks so natural. It's a simple look, but the pale gold eyeshadow and the Benefit lipgloss make me feel a little more glamorous, even in the face of cold and rainy Lancaster weather!