Lancaster's Cross-Country Team are Racing to Success
750 total views
Lancaster University Running Club went into the second round of cross-country in high spirits, and with good reason. The club concluded last year with a first ever promotion for the men's team, a record finishing position for the women's team, and the 'Club of the Year' title in the LUSU awards. They followed up last season's success with a strong showing in the first round of cross-country at Chorley over the summer.
The men still managed to get a team to Chorley, despite it taking place before Freshers Week, meaning the club hadn't had the opportunity to replace departed runners with new members. In the women's race, Kaylea Haynes and Lucy Morgan, both of whom were on cross-country debut, both managed to finish just outside the top 100, putting in performances that bode well for the coming season.
The teams needed six runners to count for the men's race, and though Lancaster took eight runners, unfortunately one the club's foremost runners Jack Okell had to pull out mid-race due to injury. However, the team performance was strong enough to land them in third place out of seven in their division. Phil Robertson led the team, finishing an impressive 13th out of 249 runners. Tom Greaves, Matt Hamer, Andrew Crickmore, Nicholas Barton and Matt Mann, who just edged Jack Croft out of Lancaster's sixth counting position at the end, all ran strong times to back this up. This was as good a start to the season as LURC could have hoped for given the circumstances.
Lancaster took an even larger team of 13 runners to Burnley on Saturday Week 3; this greater number would be valuable in the race ahead. For the second time, the women's team were frustratingly one member short of a full team. However, Shan Preece and Jenny Mote, both on debut running, impressively finished 86th and 111th respectively, and with strong runners to come back into the fold at the next race in Liverpool, it could yet be a promising season ahead for the Lancaster women's team.
In the men's race though, it was a different story. The Burnley course was more forgiving than the sharp inclines and water jumps of Chorley, and LURC took full advantage. Whilst no individual reached the same successes of Robertson at Chorley, there was a far higher consistency throughout the team, which contributed to its victory in this 10k battle. Tom Greaves lead the team, finishing in 37 minutes exactly, coming 56th out of 303, then Okell, Steven Pugh, Crickmore and Ben Francis in 88th place. All five finished in well under 39 minutes, an unprecedented performance for the club.
Race Captain Greaves, whilst pleased with his own performance, particularly praised Pugh, who overtook several runners in the final sprint to the line: "considering it was his first cross-country competition for the club, that was an exceptional performance from the lad. We were expecting him to be at around the 40 minute mark, so for him to come in at 38:11 is just fantastic, and a real sign of the new blood we've got coming through in the club".
However, there was still the question of who would finish in the all-important sixth counting place for Lancaster. Callum Barltrop (another debutant) and Barton were both in with a shot but it was Tom Walker who pipped them with a time of 40:11 in 120th position. With David Thomas finishing in 43:30, Croft in 45:49 (almost 9 minutes quicker than in Chorley) and Mann coming through in well under 50 minutes, this was an exceptionally strong team performance for Lancaster.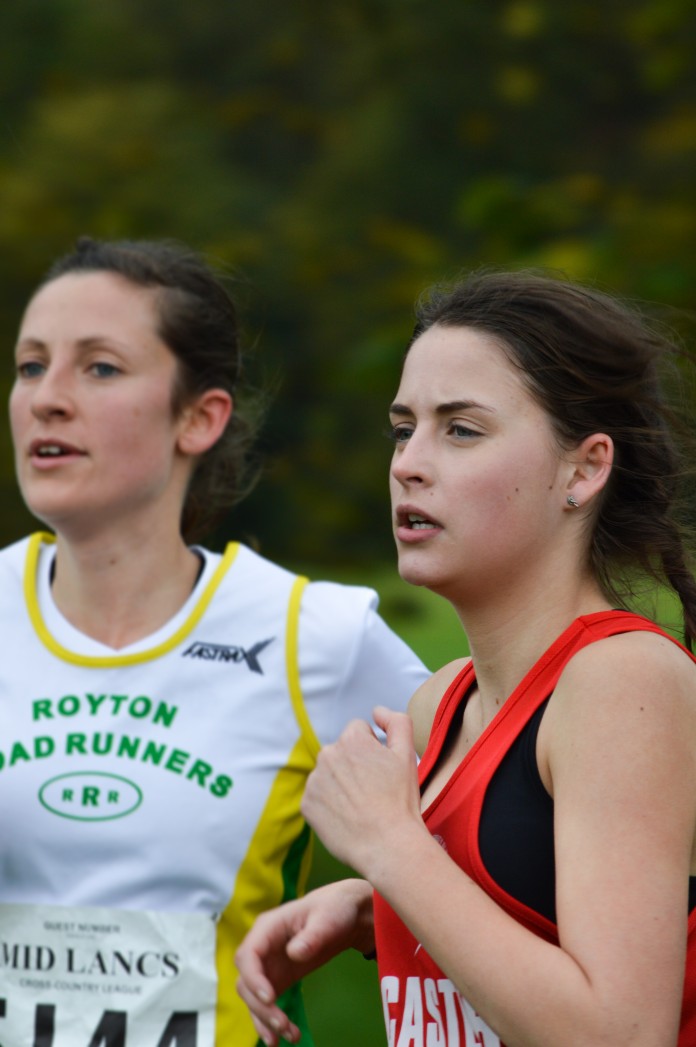 This was reflected in the final results, as LURC came 9th overall, but all importantly came top of all the teams in their division: 87 points ahead of Lancaster and Morecambe and a full 227 ahead of the former league leaders, Kendal. As a result, this put the men's team joint top of their division alongside Kendal, an unprecedented high for the club that everybody was delighted with.
"It really couldn't have gone much better," Greaves told SCAN, "we had strong performances throughout the team, and I'm absolutely delighted for the new runners in the squad, they couldn't have had a much better introduction to cross-country running".
He, like the rest of the club, is optimistic for the season ahead: "obviously we don't take things for granted and we don't let up, but considering we have other runners to add to the team who will be in and around the counters in both the men's and women's team, I don't see why we can't push on in both".
With four more cross-country races to come, the next at the end of November in Liverpool, the club has some hard battles ahead going into the winter. However, based on performances like this, they're approaching them with a positive outlook.