Fine Art Students take part in Library Exhibition – Review
850 total views
Over the summer break, art tutors from the Lancaster Institute for the Contemporary Arts asked soon-to-be Fine Art second year students to produce a document. This document was to represent their usual art specialism. This document is known as an artist's publication; it can be anything from a small design on an A6 piece of paper, to an A1 sized poster. Many of the students have created small booklets, pieces of text, boxes, concertina drawings, digital compositions and letters, amongst much more. Various themes are explored within the pieces: some explain one's personality, whereas others create political commentary among other social issues including concerns for the natural world.
The exhibition will take place from the 12th October until its closing date, 27th October. The publications can be viewed from several glass cabinets at the entrance of the University library. Having been curated by the students themselves, the types of publications have been identified under certain categories: identity, physical anatomy, nature, culture, and psychology alongside other topical subject matter. For example, student Hannah Holden, uses her publication to question the legitimacy of the labels we give to British culture. She aims to "provoke viewers to think about things such as actions in their daily lives, the products they consumer, and how they are influenced by other countries".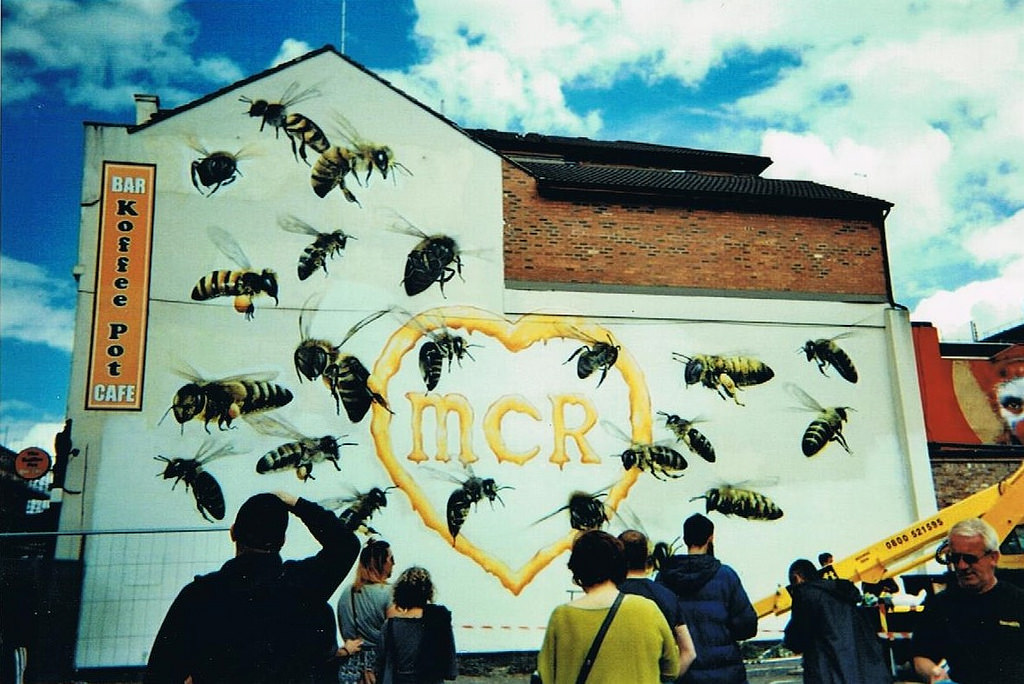 As a student involved in this process myself, I took this opportunity to create a one-off work, rather than focus it solely on my practice. My inspiration for the work derived from the Manchester terror attack that took place on the 22nd May 2017. From this, I decided to create a small zine of 35mm photographs, forming a booklet of 22 images in tribute to each individual who died. Varying from Manchester bee murals, to the flowers and signs around St. Ann's Square in respect of those killed and affected by the terror, the images act synonymously to the bravery presented by the city. Although not traditional of what you may find in an artist's publication, and not representative of my artistry as a whole, I saw this as an opportunity to pay homage to the city closest to my heart.
Alex Rooke, a student involved in the process, explained his publication is based on his "ongoing studio practice" in which he focuses on "photography and reacting to the feelings of intrusion and curiosity of strangers". He wishes to encapsulate "who they were or what they were doing" and is fascinated in how this can be translated into visuals. Daisy Williamson, who is exploring effects of photography said "I don't want to just capture the moment photographed and freeze it. I want to embody the experience I had in that moment in a 3D entity, so that feeling I experienced emanates from this frozen ephemeral".
Another student, Kirsten Davis, communicated that 'Publish! Was a great form of expression" for the second years; "the diversity in all our pieces is beautiful". This is the essence of what makes this pop-up show so significant. The stunning contrast between documents causes viewers to think individually about each publication and the individual behind it, showing the variety of practices artists can pursue. I see the showcase of the publications as much more than just a depiction of each student's expertise. When accumulated together the assortment of techniques and skills provided by the works show the difficulty and hard-working nature of artists, and the true talent necessary to be part of the creative industry.