The New Face of Fashion: Jessie Frizzell
7,615 total views
With an excellent taste for all things fashion and a keen attitude for keeping up with the latest trends, it is hardly surprising that Jessie Frizzell is one of Instagram's latest up-and-coming fashion bloggers. With glamour in every post, Frizzell's eye for the most covetable garments on the high street has gained her thousands of followers within just a few months, gaining recognition from huge brand names like Missguided and PrettyLittleThing. Having followed Jessie for some time, I have been able to see the development in her account, as it evolved from a personal style diary to a chic platform for her favourite garments. I thought now would be the perfect opportunity to get in touch with Jessie and see just how the girl really does it all.
So Jess, introduce yourself…
My name is Jessica Frizzell. I'm a 21 year-old student from Manchester. I am currently in my final year of study at The University of Huddersfield, completing my degree in Photography, and I'm also a fashion blogger on Instagram.
So I've been following you for possibly over a year or so now, but the past few months you have really focused your Instagram account on fashion blogging and advertising brands. So, have you always been interested in fashion? And what has been the motivation for you to do this?
Yes, I've always been a fashion enthusiast and I absolutely love seeing the latest trends! Blogging on Instagram just sort of happened, I never intentionally set out to become an Instagram blogger. I just started out posting pictures of my outfits before nights out and then a company messaged me asking if they could send me a piece of clothing to feature on my Instagram by tagging them in the image. When they posted me on their own social media page, other brands started to notice me, and then it just went from there really.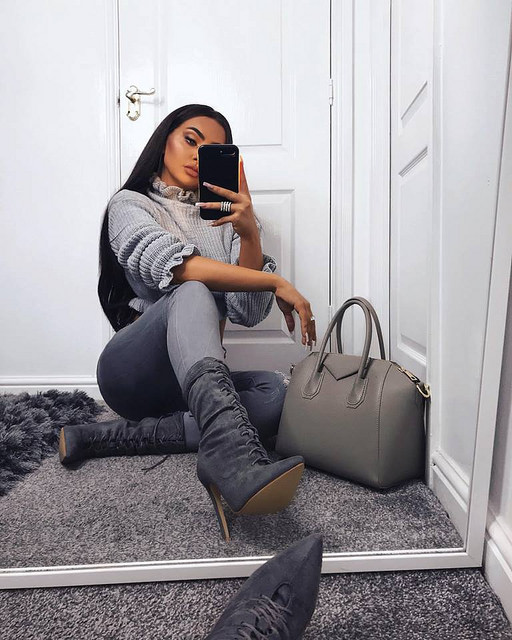 What brands are you currently advertising? How did you gain these opportunities?
So at the moment I'm advertising a lot of different brands, I couldn't just list them all, we'd be here all day! But some of the main brands I publicise are companies like Missguided, PrettyLittleThing, In The Style, Miss Pap, and Fashion Nova. I feel that from my frequent posting of items, and from other brands re-posting my images, it's really caused my Instagram to grow as a fashion-focused blog, getting me noticed and meaning more companies have got in touch via email to give me further opportunities.
I know you have a really keen interest in photography. Has this been useful in terms of getting the best images for your insta? How do you usually get the images you post? Do you place a camera on a tripod, get friends/family to take them for you?
Yes, studying Photography has had a massive impact on my Instagram. I think I now have an eye for what works in a photo, what angles are best, what lighting to use etc. However, it has made me extremely fussy on what I post. I won't post something that I don't think looks good, so I end up taking a million pictures just to get the right one. I usually get family and friends to take the images as its easier, that way they can tell you what's effective and give you a second opinion.
Do you get paid to advertise the garments you share? Do you get sent the clothes for free? How does the financial situation work in terms of fashion blogging for you?
I have just recently started getting paid for posting on Instagram, but before that I would get free items in return for a free post on my page.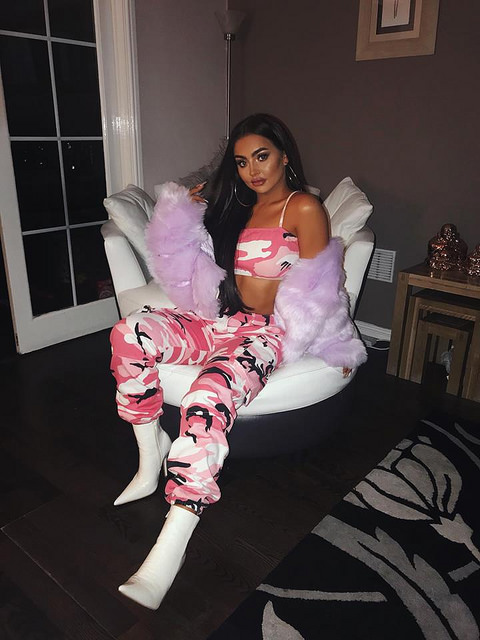 Would you say this work is a form of modelling? And does this make you want to pursue a larger career in being a model and/or ambassador for more clothing brands?
Yes, I would definitely say that the work I'm doing is a form of modelling as you are basically modelling the clothes on Instagram. I would absolutely love to become an ambassador for more clothing brands, but I would say my heart is set on starting my own clothing brand eventually, that's the main goal.
What would you say has been the most difficult part about blogging so far?
The most difficult part of blogging is providing content daily, you've constantly got to take pictures for brands and keep on top of it. If you're able to do blogging full time then I'd say it would definitely be easier. However because I'm still at university in my final year, the work is very challenging, and makes things a lot more difficult. Hopefully, once I've graduated, I think I'll be able to get everything back on track!
Who would you say are your biggest fashion inspirations and why?
I think we can all agree that Kim Kardashian is one of the most influential fashion icons out there, especially in the past few years, she has definitely influenced my style. Rihanna also is one of my biggest influences; I think she's so unique and she's someone who isn't afraid to try new trends, and I love that about her.
Who would be your dream brand to blog for and why?
Well, when I first started blogging my dream brands were brands I would already buy from all the time, like Missguided and PrettyLittleThing. I am so grateful that I have had the opportunity to work with them, as they are some of the biggest online brands right now, in my opinion. Now that I've been able to achieve this, I think House of CB would be a great company to work with. Their clothes are so chic and the label has really grown on me.
And finally, what advice would you give to other young people who want to get started doing the sort of blogging you are?
This question is something I get asked almost every day from girls wanting to start blogging on Instagram. I think as Instagram has grown so popular, it's definitely becoming more difficult to become noticed and to be unique. I would say being unique is so important – don't try to be like somebody else's Instagram. Companies are always looking for new people to work with, people that style things differently and in their own distinctive way, brands really love that. Posting content daily always helps in terms of getting yourself noticed and building up your following. If you want to start promoting, then show your love for fashion by sharing pictures of different looks and outfits you come up with. Girls who message me are always scared to start posting pictures tagging brands because they feel like people will judge them and put them into the stereotypical category that all Instagram bloggers get automatically put in to. But everyone has to start somewhere, and not posting fashionable content when fashion blogging is something you're interested in pursuing is not the way to go about it. Just go for it, don't bother about what anyone else thinks and it'll be worth it in the end.
To follow Jessie for yourself, find her on Instagram, Twitter and Snapchat at @jessiefrizzell