Lucy & Yak: Proving Sustainable Can be Stylish
472 total views
It can be hard to find cute, ethically made clothes in the days where fast fashion dominates, but Lucy & Yak serves as a reminder that it can be done. This little brand has big ideas, an amazing story, and lovely clothes to boot.
After starting off as a tiny Depop store with only 30 pairs of their classic dungarees to kick it all off, Lucy & Yak took matters into their own hands, and began working personally with skilled tailors in India, even building their own factory for them. Their packaging is 100% biodegradable, and your clothes come in a lovely fabric bag to further eliminate plastic waste. Along with this, they pay their UK employees the living wage (see www.livingwage.org.uk for more info on this!) rather than the minimum wage and have ensured that their Indian employees are paid fairly as well.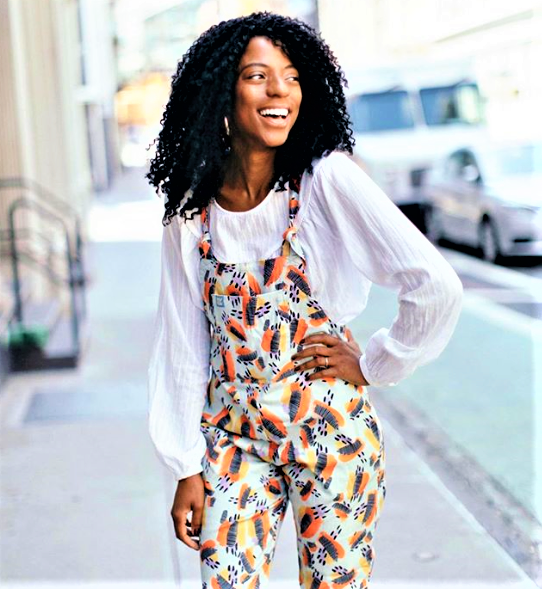 The first product I instantly wanted from Lucy & Yak was their 'Eddie' black corduroy boiler suit. At £68, the price tag is a little steep, but the description underneath states that they are all handmade and pure organic cotton. It was exactly the silhouette I wanted – loose on the legs, cinched in the waist – but I decided that it would be my 20th birthday present instead, and my first order was a gorgeous rust brown 'Seth' t-shirt and recycled corduroy tote bag in a gorgeous shade called 'petrol blue'.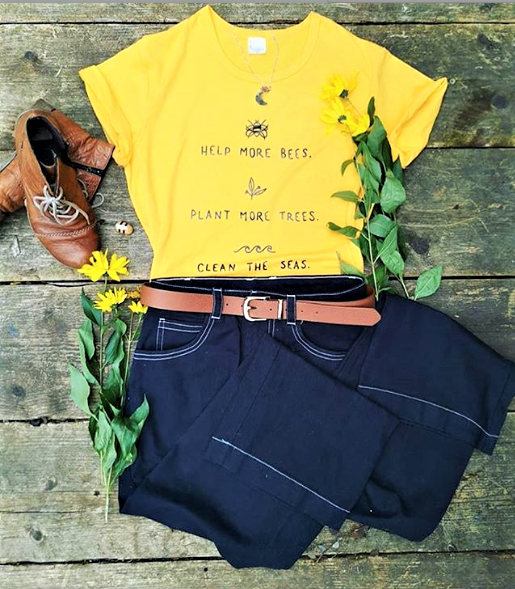 The t-shirt is the softest, most comfortable t-shirt that I own. The colour is perfect for autumn, and it looks amazing either tucked into a pair of mom jeans or simply over skinny jeans. The bag is a lovely deep blue, perfect for carrying to work and keeping my books in, and the description on the site explains that trainee tailors make them for practice before moving onto bigger items!
This just made me even more excited to finally get the boiler suit that I'd lusted after for weeks now, and it definitely did not disappoint. I did have to exchange a size medium for a size small, but the small was absolutely perfect. It was comfortable and lightweight, and pairs beautifully with 4 of my 5 pairs of Doc Martens. I love styling it with a high neck, long-sleeved top underneath, especially for autumn!
It's not just clothes that Lucy & Yak boast as well. They have a whole section named 'Zero Waste Living', with products such as beeswax food wraps and a selection of solid shampoos and deodorants. It's pretty amazing to see them cutting down on so much plastic waste and helping others to do the same.
It's so clear that Lucy & Yak put so much care and effort into every item of clothes they make and are so committed to ensuring that everything they make is exceptional and their employees are well cared for. Their care for both people and the environment is so refreshing to see when so many massive clothing companies completely disregard both. The carefully thought out planning and investments into their employees that Lucy & Yak make is reflected in the high standard of their clothes and materials.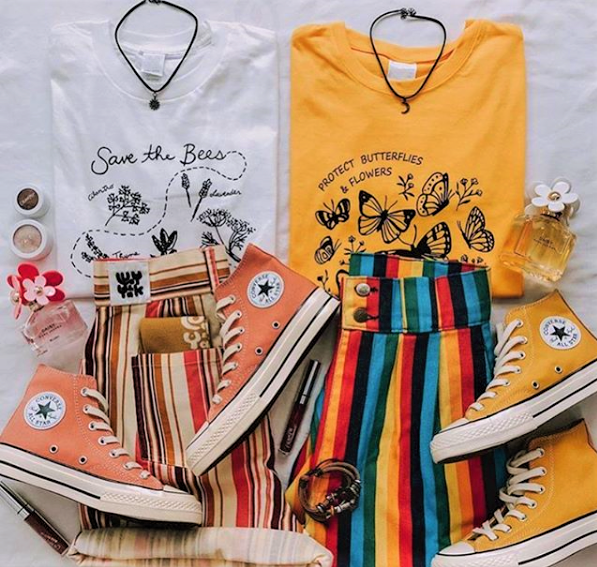 This brand might not be for everyone, but for comfortable, unisex t-shirts and fun dungarees, Lucy & Yak is the perfect ethical brand to buy from. Though it is pretty pricy, these clothes are made to last, and their transparency means that you know that your money is going to a company with valuable ethics.