Caton Court Crisis
9,723 total views
Lancaster SU suspend marketing contract with Aparto after threats to student safety and wellbeing are revealed
Private developer Aparto opened their new Caton Court housing for Lancaster students this year, but many residents there have already expressed dissatisfaction with both general living and safety standards.
Lancaster University's housing quality insurance service, LU Homes, endorses the Caton Court student housing. The University also recommended the housing to first-year students who could not find on-campus accommodation this year.
Aparto had delivered the Caton Court student housing in a formal sponsorship with Lancaster University Students' Union. However, the Union has suspended their contract with Aparto today (17th October 2019).
The Union's statement outlines their decision:
Lancaster University Students' Union has suspended its marketing deal with Aparto Homes after concerns were raised by students about fire safety and other issues at Caton Court.

As with any new purpose-built student accommodation, the property should have building completion certification in place before occupation. All properties have been independently assessed to meet the Lancaster University Homes accreditation standard as managed by Lancaster University. We were therefore disappointed and concerned to learn that there had been issues at Caton Court.'

Lancaster University Students' Union
The Students' Union President, George Nuttall immediately wrote to Aparto this week to highlight our concerns, seek reassurances that the issues were being resolved, and ascertain the measures that are being put in place to mitigate and remedy the situation.
A response was received to the Union's letter last night after further efforts to contact Aparto and the decision to suspend with immediate effect the Union's marketing contract for Caton Court.
The suspension will remain in place until an adequate response from Aparto, answering all of the Union's and students' concerns is received. We continue to liaise with Aparto, LU Homes and Lancaster City Council.
George Nuttall (President) said:
The health and safety of students is our paramount concern and we hope the immediate suspension of our contract with Aparto will signal the seriousness with which we view this situation.

We hope that we will receive assurances very soon that all the issues highlighted by students have been dealt with properly.

All properties marketed by Living are owned by independent landlords and we only let properties that have been independently assessed to meet the Lancaster University Homes accreditation standard.

The union will keep students informed of developments and any response they receive from Aparto or other agencies involved.

George Nuttall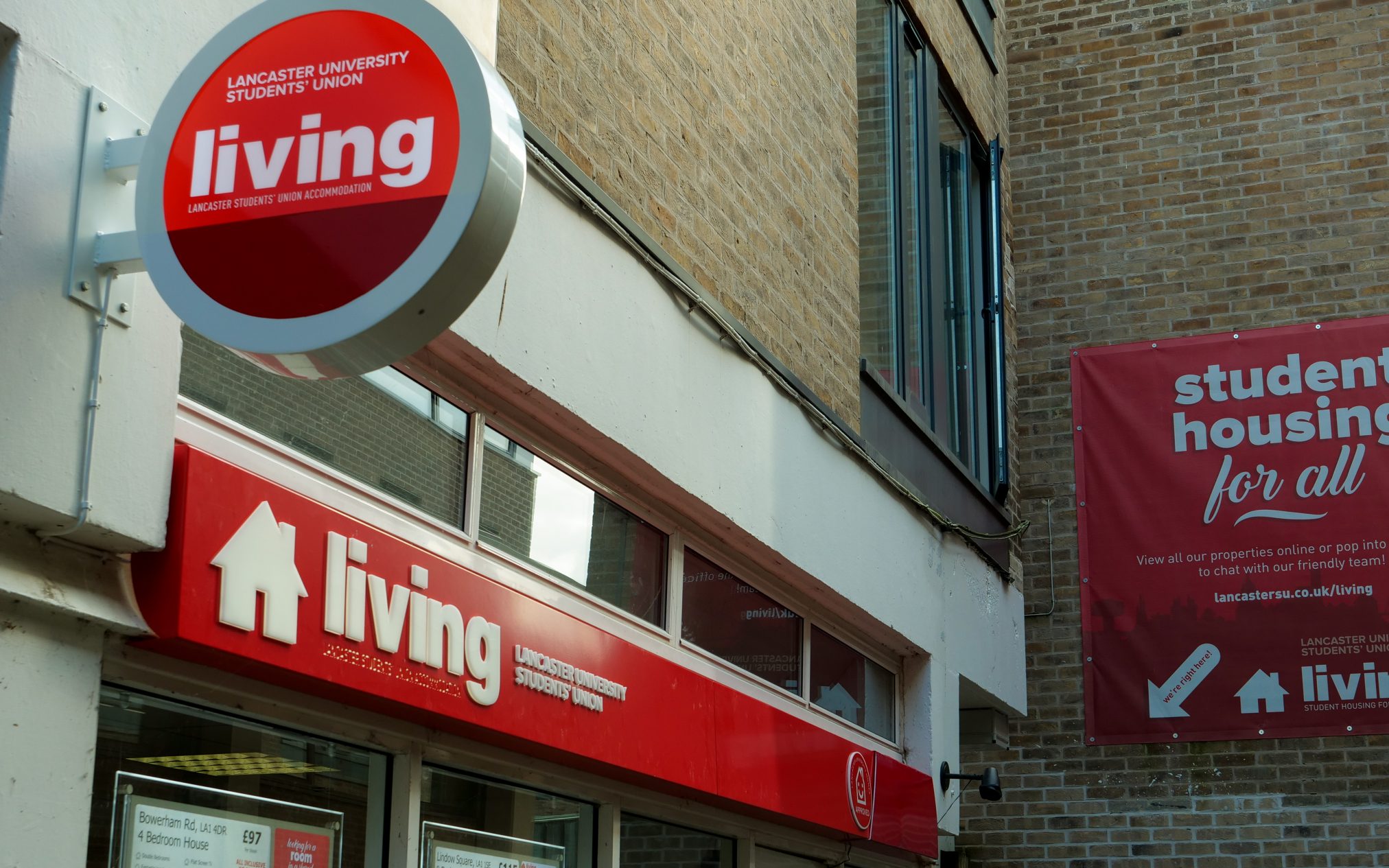 The Union raised their concerns in a letter sent to Aparto
In their letter, the Union wrote, "Students have reported concerns that:
"On 5th October there was a fire alarm activation, and the evacuation of the main tower. Apparently, the fire curtain at the base of the main (and indeed, only) staircase is meant to lower after 5-10 minutes to prevent the fire spreading through the building. As it was, the fire curtain lowered straight away, trapping some 100 students inside the tower block. They were released by a contractor who happened to be on site at the time, and heard their shouting, as the only release is on the external side of the barrier. The contractor was not meant to be there, as it was a Saturday.
"The alternative exit was not clearly signposted at the time, and as of the 10th of October, there was still a "Do not enter" sign attached to the exit door at the base of the tower.
"They perceive fire exits are currently poorly marked and/or blocked and on 3 occasions the faulty fire alarms have been activated and failed to sound leaving residents unable to hear the alarm going off and being unaware of any potential danger.
"On 13th October there was also a complex-wide power outage reported to ourselves, that took 2 hours to resolve with up to 60% of the complex suffering from a lack of emergency lighting due to this failing to kick in."
The University and Scotforth Rural Ward Labour City Councillors released a statement on 15th September 2019 detailing the situation.
This is what they found.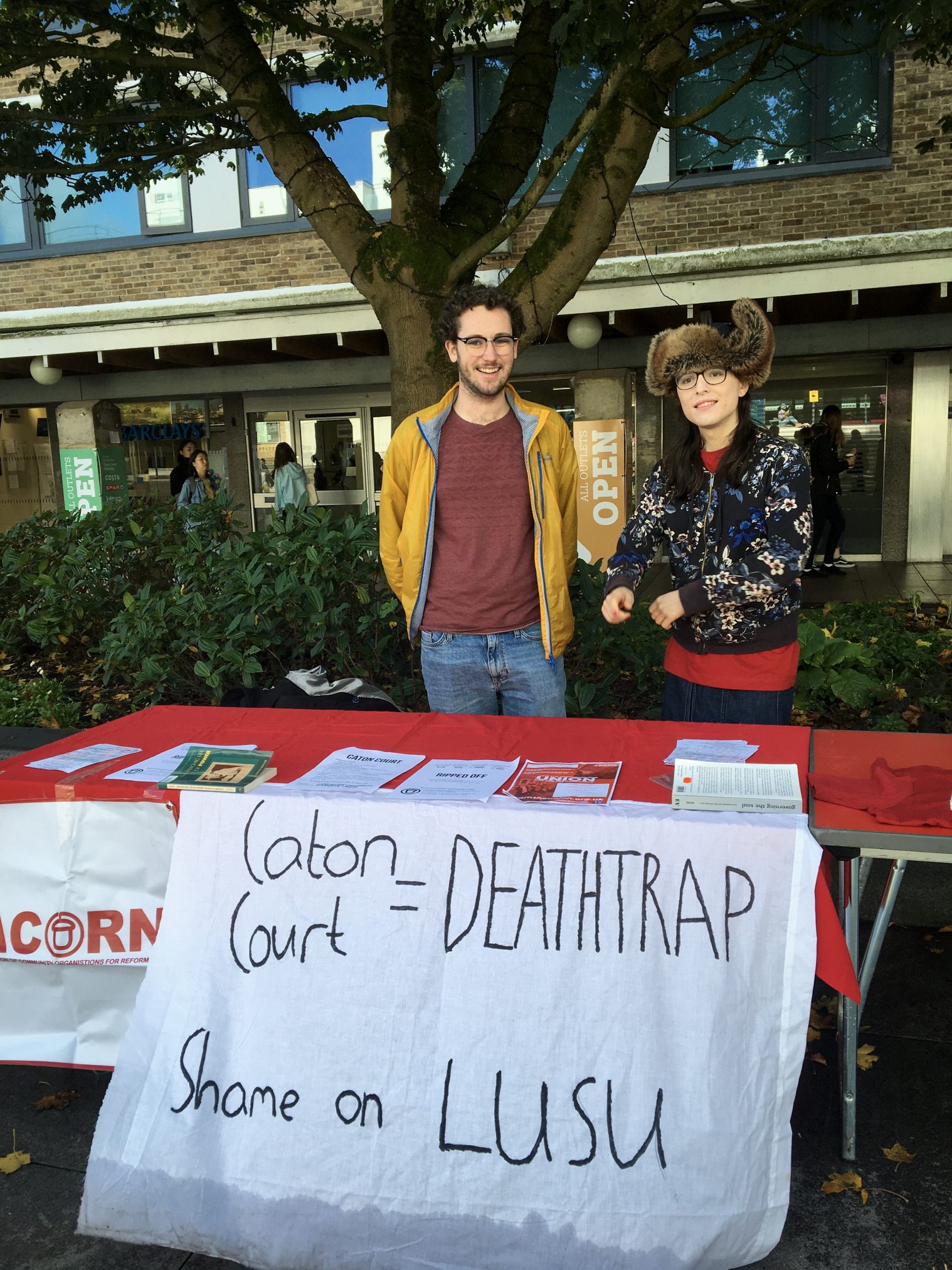 During a fire alarm on 5th October 2019, "a fire curtain was lowered at the entrance to the main stairwell, ​trapping about 100 residents inside the stairwell as the alarm sounded​." An alternative exit was available, but this was apparently poorly signposted and "could only be accessed through a door in the basement with a 'No Access' sign on it."
The accommodation was also advertised to be complete in September 2019, but is still under construction despite students having moved in. "Over 30 residents were temporarily housed in a Travelodge whilst their rooms were still being completed at the end of September."
Laundry facilities are only recently available and consist of just 7 washing machines which are meant to accommodate the needs of the 444 residents there. "Aparto have no plans to expand laundry provision."
A complex-wide blackout on 13th October left a student trapped in a lift, who was only released thanks to the efforts of another student who had to "prise open the lift doors to let them out".
In addition to these more serious problems, basic inadequacies have been identified:
One tenant has lacked a functioning toilet for over 2 weeks.
Many occupied rooms still need to be finished. "These are mostly a case of messy wallpapering and sanding of edges or touching up scratches on the walls."
Some apartments advertised with ovens only have microwaves.
Other problems include:
Internet issues
Heating issues
Faulty door handles and tables
Holes in the walls and ceilings
Labour City Councillor Jack O'Dwyer-Henry said:
The University has failed in its duty of care to students by encouraging them to live in this badly-run and incomplete accommodation." And "For the Students' Union to be pocketing money from this unscrupulous landlord to promote Caton Court to students, proves once again that Lancaster's SU does not represent students' interests.

Jack O'Dwyer-Henry
Tom, a fourth-year Lancaster University student and Caton Court resident said the various hazards and lack of basic amenities had "detrimentally affected the well-being and education of the paying residents".
Lancaster University responded:
The safety and security of our students is extremely important to us and we were very concerned to learn about the complaints about Caton Court. Lancaster University has met with Aparto, the Fire Authority and LCC Housing Standards to progress work to ensure that there is confidence in the safety standards at Caton Court. The Fire Authority and the City Council have the ultimate regulatory and enforcement powers.

Some first-year students who came to the University through Clearing (and did not have a guarantee of Lancaster University accommodation) were able to choose their off-campus accommodation through the LUHomes website which is a partnership between Lancaster University, the University of Cumbria and the City Council.

Lancaster University
This is a developing story.
If you have been affected by the Caton Court accommodation and would like to offer a statement, please contact SCAN at scan.editor@lancastersu.co.uk.
Update: Aparto Responds to Student Complaints
(Friday 18th October, 4:15pm)
A spokesperson for Aparto said:
We are working hard alongside the contractor to resolve the issues in the building and are providing regular updates to students, the Students' Union, and the University, to whom we have offered our sincere apologies. We fully recognise that the delays and ongoing issues are frustrating for residents and we are doing everything possible to minimise further disruption. We are holding Q&A forum events to explain the issues and answer any questions residents have. We have also offered students compensation, including two weeks rent free and a 30% discount until the outstanding issues are resolved.

Our number one priority is the safety of students and we take our responsibilities with regard to fire safety extremely seriously. We have updated fire exit signage and have clarified the fire safety procedure for residents within the building, including the correct exits to use. The development's fire strategy, including temporary measures whilst the external works are being completed, has been signed off by building control and local fire officers at every stage. We will continue to follow the advice of local fire officers as the final construction works are completed.

We apologise to all of the students affected and thank them for their patience as we resolve this situation as quickly as we can.

We continue to liaise with the student union and have set out the steps being taken to improve the situation for students at Caton Court. We will continue to keep residents, the Students' Union, and LU Homes updated on the outstanding issues at the site, which we hope to resolve as soon as possible.  We hope to be in a position to restore our partnership with the Students' Union as soon as possible.

Aparto