Bridgerton: What everyone's NOT talking about
658 total views
If you're here for another thirst-article about the dashing Duke – think again. I am not jumping on the Bridgerton bandwagon.
*This article includes spoilers and a trigger warning for sexual assault*
It's no secret that this show involves a lot of sex. Recently, it was even reported that some of the sex scenes have been pirated and published on porn sites, racking up thousands of views and leaving Netflix struggling to reclaim the footage.
This shouldn't surprise anyone who's watched the show. Once Duke Simon (Regé-Jean Page) weds his Duchess Daphne (Phoebe Dynevor), the show feels like a full-on porno for at least an episode. They have sex everywhere. All the time.
But the frequency is not the only issue – it's how this sex is represented.
Dynevor, playing Daphne, claimed it was important to her that female sexual pleasure and desire was shown. Don't get me wrong, the show achieves this. However, it does for me limit the importance of this part of the show's statement when all it takes is Daphne putting her hand down there for her to orgasm. The scene did leave me thinking, well… it's not quite like that, is it.
Besides the first time between her and the Duke, where there is some brief foreplay, every sex scene misses any attention to Daphne's needs. Once Daphne's undressed (and sometimes even before then) Simon's barged his way in and, very promptly, finished.
Now, sex is different for everyone, but these scenes must have been painful for Daphne.
The real crux of the issue though is episode 6 when sex takes an even darker tone.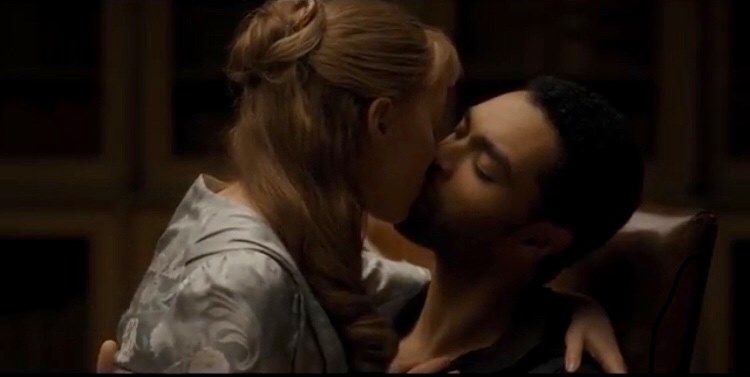 Until now, Simon has been lying about his inability to have children and using the somewhat risky pull-out method. Finally, a maid-servant tells an uneducated Daphne that, to become pregnant, her husband shouldn't be pulling out.
What happens next is a scene that angers me whenever I think about it.
During sex, Daphne pulls herself on top of the Duke to prevent him from pulling out. When he realises, he tells Daphne to 'wait' multiple times and we see the panic clear on his face.
Now, in this post-#metoo era, why is this not presented as rape?
Regardless of whether he deceived her or that he was the more experienced partner, regardless of any other contextual factors, he expressed that he wanted it to stop. If the roles were reversed, and Daphne had been forcibly impregnated despite her panic, this scene would be called what it is. Rape.
Amongst all the memes and BuzzFeed quizzes, where is this acknowledgement?
The narrative within the show doesn't address it. There is even a sense that her actions are justified. Daphne's problematic actions aren't addressed further than the episode-long rift that comes between the couple and even that is swept over by a reconciliation scene. Despite how progressive the show has been with its BIPOC cast, they fell into the old cliché of tying up loose ends with a birth in the finale. Because, obviously, we can only have a happy ending once the characters who decidedly didn't want children throughout the storyline have 'righted' their choice. *Eye roll*
I'm not claiming I didn't enjoy this Gossip-Girl-meets-Regency-Courtship show. I can't, however, comfortably celebrate a show that professes to provide a space for female pleasure, only to give us sex scenes that are purely, and somewhat painfully, centred on the male. Nor can I accept that because a man failed to express deeply buried daddy issues to his wife that we can condone, justify, or trivialise male rape.
Do better.