For whom the bell-bottom tolls
592 total views
Fashion moves on, it's inevitable. The day of the skinny jean couldn't last forever. No, don't believe a word of it.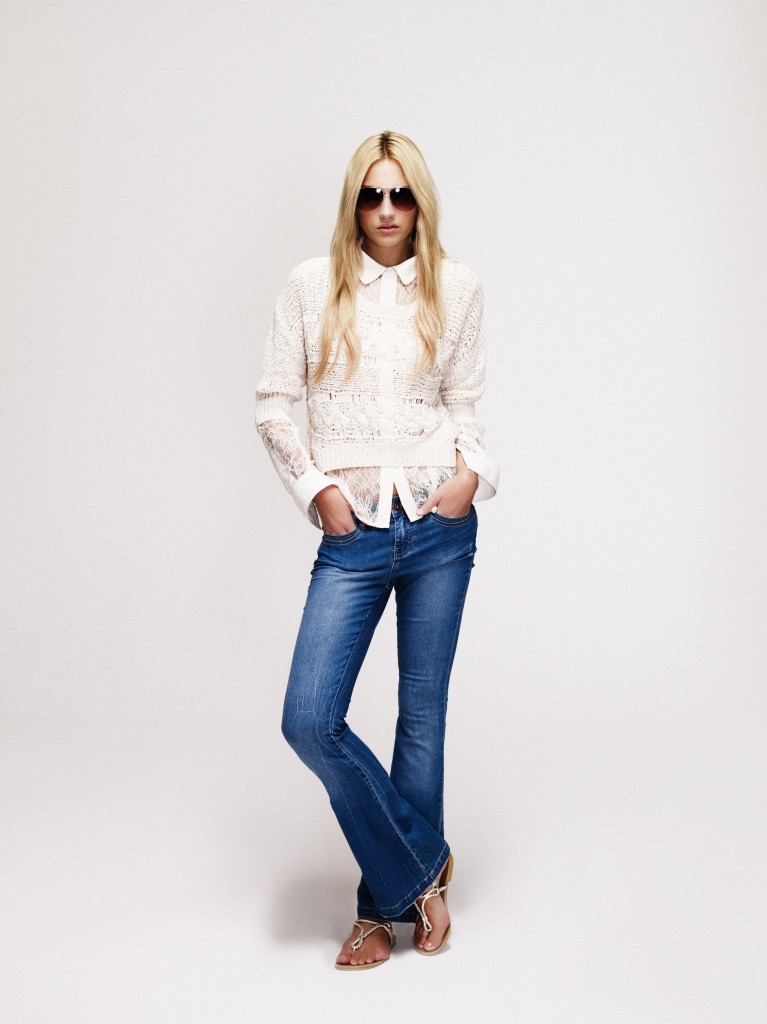 It's hard to imagine what the world used to do before the noughties skinny jean revival, or how they ever went out of fashion back in the 80's.  Now, skinnies are more than a trend.  They have become standardised in fashion, at this time anyhow. This is problematic in itself for many people out there.  When something becomes a staple, adopted by all and sundry, it loses its allure.  This is the fundamental concept of fashion.
Though the skinny trouser leg isn't going anyway, it doesn't stop people seeking an alternative. So, what's the best way to stick two fingers up at the skinny jean crowd? Do the complete opposite.  Here dawns the day of flares and bell-bottoms.
In all the anti 80's euphoria every preceding decade has been revived on the catwalk for Spring/Summer 2011.  The 70's is no different, giving flares some context in which to be credible.  After all, we've been consuming skinnies for so long now (apart from a brief affair d'amour with carpenter and boyfriend jeans a few years ago) that anything else has begun to look a bit alien.
In terms of denim, this is a turn to the Gods of 70's boho hippie chic.  Headbands, aviators and floaty tops will complement the less refined silhouette and give the flower child feel.  However, the real key accompaniment looks set to exclude our humble nation from participating in this trend until we enter the more temperate climate of the summer months.  On the catwalks, there were very few examples of the true, blue flares or bell-bottoms teamed with anything other than strappy sandals, for both men and women.  It's hardly worth the risk in Lancaster when the weather can switch so quickly and violently.
Yet, don't despair.  If you're more feet up in front of a gas-powered fire than flower power, you'd be bang on trend as the 70's sophisticate.
Many of the aspects of this trend are the same across the whole Spring/Summer board, such as the high cinched waist, smartly belted.  The differences are down to the unique 70's style and colour palette.  Team your non-denim flares with billowing sleeves, eye-bending patterns and ironic clichéd materials like silk and satin. 70's style affords over-accessorising to a certain degree.  Keep it tidier for your sophisticate look than the bohemian one, bright jewels and stones are smart whilst still retaining the psychedelic edge.
The male take on flares is just as developed as the women's, however, it revels less in 70's fashion.  Once again, this item has been cherry picked and absorbed into male eclectic style.  They will, according to designers, be the ultimate trend for men in the summer when you don't want skinny jeans stuck to your legs with sweat.  Invest in them early, and you'll have a pair not available on the high-street when everyone else is buying them.
So there you have it, anything but an obituary for the skinny jean but something to experiment with.  If you don't like skinny jeans or feel that they don't suit your shape, then embrace this trend with both arms.  You never know when they're going to be back en vogue again, it could be another 30 years!