Students find poor housing across Lancaster despite LUSU Living award
588 total views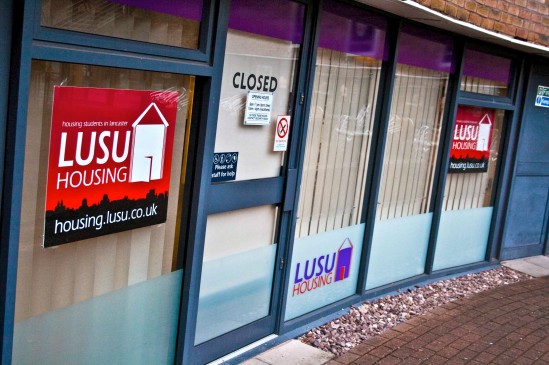 The lives of some Lancaster University students were made tougher at the start of the University year, when moving into their new student houses proved to be a much more difficult task than expected.
One student was particularly unimpressed with LUSU living, describing how on the day they arrived in their new student house it "had evidently not been cleaned" and was in a "disgusting condition". It took them one week to make the house liveable. "The fridge, oven and walls were all mouldy" she described, with the biggest problem being the sofas which were covered in "bright green mould". The bed in the downstairs bedroom had also snapped in half; "we cannot forgive LUSU for the bed as they had evidently been into the house over the summer to replace the mattresses in all four bedrooms, yet had neglected to replace a bed that was in two pieces" she explained, going on to say that this unacceptable condition was a result of "plain laziness".
When asked how they approached LUSU Living in order to solve the problems, she explained that "firstly we complained to Mathew Ward [manager of LUSU Living] about the sofa. He arrived at the house, took a look at the sofas and said 'I have seen worse than this', which in our opinion is a disgusting attitude and he should be ashamed. Those sofas were a health and safety issue!" Another issue within the house was the shower screen, "which was too small, as water was pouring all over the floor" she expressed. "Matthew Ward told us that the screens were standard size in all LUSU properties and that as a house, we must all have been 'showering too vigorously'! We complained further about the screen and they still refused to install a shower curtain, until I slipped one day walking out of the bathroom and fell against the door frame, badly bruising my arm and leg and spraining my wrist" she recalled.
After writing four letters of complaint, one to Ward's superior Jade-Morgan Jones, the group received two hundred pounds in compensation "for the time, effort, and money we spent cleaning that house making it liveable" however, she still feels that the state of the house, and the lack of assistance, is "an insult."
When asked what he thought about the cleanliness in LUSU Living's properties, Ward commented that it "is inevitable a few properties will not meet the expectations of the in going tenants. LUSU Living currently manage over 250 properties in town and receive very few call backs annually in respect of summer cleans. However, we are always looking to develop our services and improve our tenant support, and are therefore introducing a regular cleaning service for all our shared LUSU Let properties 2011/12". He believes that this additional cleaning service will deal with any of the outstanding cleanliness issues "left over the summer".
LUSU Living, however, was not the only housing company to receive complaints. Second year Furness student, Hannah Gray, found housing with Yellow Door Lets but was not pleased by the state of her house on moving in day. "We came up in the summer to look at the house and then e-mailed them a list of things that needed to be done, such as the fact that there were no curtains or a broken TV Ariel", explained Gray, "we were annoyed because they had two months to sort out the issues, and nothing had been done."
After being patient and sending occasional e-mail reminders, she and her housemates "eventually went in to the office and got a bit angry; after that they were great. Various men came round to sort various problems and within days everything was sorted. They were very apologetic about it all, we mentioned that we had been waiting ages for anything to be done, to which they apologised and said that the email over the summer must have got lost somehow. Since then they've been helpful and proficient, even replacing our washing machine immediately after it broke."
When asked how they tend to deal with complaints like these, Kathryn Waterworth, the lettings manager at Yellow Door Lets, said that "Summer is most definitely our busiest period at Yellow Door Lets, the biggest problems we often face is when tenants leave the house without thoroughly cleaning or notifying us of any maintenance problems. Therefore the new tenants enter properties that are sometimes not entirely perfect. However to compensate for this students pay half rent during 10 weeks over summer on the understanding that this is when some maintenance work may need to be carried out, but the tenants are still entitled to live there". Waterworth went on to assure that "We strive to do the very best to improve all our houses and often depend on students to tell us how they feel their house can be improved. As you can imagine with over 70 houses the opinions of those students living in the houses are most valuable."
Waterworth also supplied some statistics that Yellow Door Lets had gathered from student feedback, saying that so far in the 2010/2011 academic year, 95% of tenants "felt that the time it took to respond to any problems was satisfactory or above with 74% feeling it was good or very good, and 95% felt the attitude and response of Yellow Door Lets staff was satisfactory or above with 84% feeling it was good or very good." So far, 95% of the respondents also would recommend Yellow Door Lets to other students.
Another student, Jenni Nowell, found accommodation with an independent housing company called Armstrong Properties. Upon moving day, things did not go as expected, arriving to a house "that was quite frankly in shambles" said Nowell. "There were countless things wrong with the property" she continued, "including damp walls, a broken front door, no hot water, and carpets that smelt completely unhygienic. The bin had not been emptied all summer and was full of maggots, and the garden was so overgrown we couldn't even get to our back door".
Nowell and her housemates got onto the landlord immediately. "Unfortunately he is based in the Isle of Man" she explained, "and he claimed that he had absolutely no idea that the property was in this state. After that he sent round contract cleaners, electricians, and plumbers to replace or fix anything that was broken, even getting us a new boiler and washing machine." Nowell went on to express that "it did take some time, and countless emails, before everything got sorted; but it's all fine now and we are very happy in our student home."
For the purposes of this article students were asked whether they thought that LUSU Living lived up to their expectations, whether it be in the houses they supply, or the help they give. A second year student who currently lives in Chancellor's Wharf, which he describes as "fantastic", had trouble with LUSU Living when looking for a house of six for the 2011-2012 academic year. LUSU Living insisted that they had no houses left for six people, leaving the group to look for two houses of three instead. "As it happens, they were talking about their property bank, not LUSU approved landlords" he explained. "I think it's important to let people know about the LUSU affiliated landlords. While they're listed on the site, you have to really look for them, and they're not presented to you easily."
Ward commented on this particular issue, explaining that "in previous years students had complained that private adverts being listed with LUSU listings created an element of confusion" which the landlords were also unhappy with as the single list "gave priority to our managed LUSU Let homes", leading to the creation of separate lists. Ward went on to say that "it is now LUSU's intention to provide a private housing list through the main LUSU website, rather than the LUSU Living site, to avoid any further misunderstandings or complaints."
The group did eventually find a suitable house, with a LUSU approved landlady, but "with no help from LUSU Living" the student said. Ward expressed that in cases like this, when the preferred bed spaces are not available, "LUSU Living will always offer an alternative option if there is one within our LUSU lets scheme" often found within the private housing list. The same student also described the phone service as "shambolic", claiming that the phone line was often unavailable causing the group to lose out on various other properties.
"In all honesty, I'm left with mixed feelings about LUSU Living" he went on to say. "I think their package and cost is fantastic, as are most of their properties. I just can't help feeling that there's a fair degree of greed, as well as administrative incompetence. I think they do offer a good service, but there is definite room for improvement when it comes to delivery."
Ward explained that "LUSU Living experienced unprecedented demand for our U/G properties this year and this inevitably lead to some conflict in those instances where a number of groups of potential housemates were interested in the same property" thus leading to some groups missing out on certain properties. The high demand for viewings and leases "put stress on our standard letting processes [in a minority of cases]" he went on, which "obviously caused problems for the housing team, particularly those answering the phones in the office, as we sought to ensure each letting was fair and appropriate."
Despite these several negative student reactions and experiences, LUSU Living did in fact win the LUSU Team of the Year Award recently after the housing crisis at the start of this academic year. As was reported in an issue of SCAN in Michaelmas 2010, twenty international students were left with nowhere to live and were booked into hotels while accommodation was sorted out. LUSU Living dealt with these issues, along with finding accommodation for the incoming students who went through clearing, or had Lancaster as their insurance choice, and therefore had no places within campus accommodation.
"The LUSU Living team worked tirelessly from A-level results being released in mid-August all the way through to the Christmas vacation in an effort to house as many Lancaster students as possible who would not otherwise had access to any accommodation" Ward said, going on to express that "On the basis of the work put in and the number of students accommodated the LUSU Team of the Year Award was fully deserved and I am proud of my teams continuing efforts to manage a record number of LUSU Let bed spaces."