UCU protest against "authoritarian" University
595 total views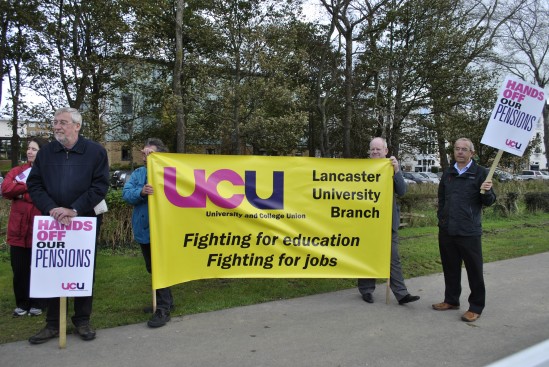 A group of University and College Union (UCU) members from Lancaster University staged a protest outside University Council on Friday 7th October, in defence of their final-salary pension scheme.
The dispute over the Universities Superannuation Scheme (USS) between UCU and the Employers Pension Forum (EPF) has been running for some time; Lancaster academics took part in two days of strike action in March and have recently voted in favour of further industrial action.
Further strike action is planned for the end of November, and action short of a strike will be ongoing.
Lancaster's UCU Press Liaison James Groves explained that changes to the USS, which came into effect on 1st October, were "against the will of the University lecturing staff and the UCU," and have created "a massively inferior system."
Groves said that the changes will primarily affect new entrants to the scheme, such as academics being promoted to lecturing positions, as they will not receive the final-salary pension that existing members do.
However, Groves also expressed that "I actually worry that the rights of the existing scheme members will be gradually whittled away."
The USS is reportedly in robust financial health; "the pension is well funded and could easily sustain itself even in the current climate," said Groves.
"The reason why it's being cut essentially is that the employers, the University, want to save money, and it's our money."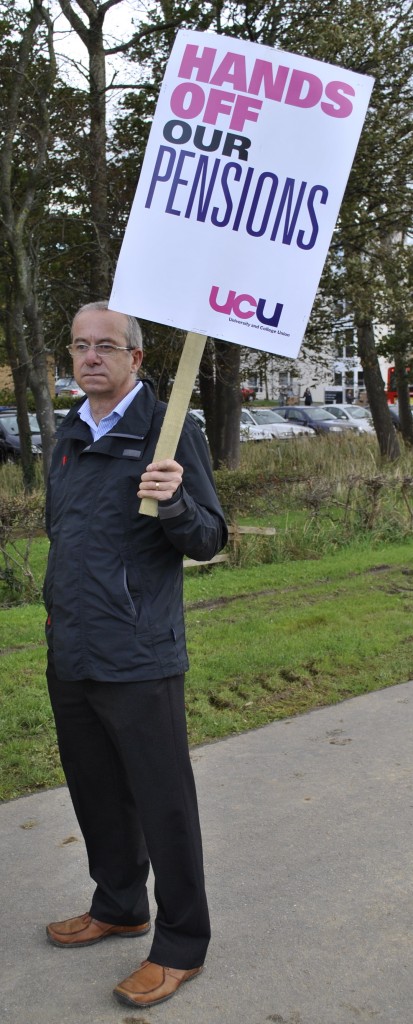 Friday's protest was organised in part to coincide with Freshers' Week, but primarily to lobby a meeting of University Council, the governing body of the University. Protesters gathered in Alexandra Square around lunchtime, before marching through the University to Lancaster House Hotel at Alexandra Park, where University Council was meeting.
Around thirty protesters congregated outside the hotel, including some students. Alex Dave, a Cartmel student with the group Socialist Students spoke to SCAN, saying that "I think it's important to be here to engage with people and to know what they're going through at the moment, because you can sit at home and watch it on the television but not get the whole story. It's actually important to go on the ground and look at what's happening."
The group delivered their message to University Council via a megaphone. "We want to send a message to University Council. Which side are you on? You must stand on the side of the hardworking staff of this University, and you must demand that Paul Wellings and the incoming Vice-Chancellor, who sits on the board of USS, stands on our side," they said.
The protesters also claimed that "we can see democracy at this University being eroded every day."
"If the people of Egypt can occupy Tahrir Square and bring democracy to a whole country, then we can occupy Alexandra Square and bring democracy to a University," they said.
This protest lasted little more than half an hour, but Groves explained that more action and disruption to teaching is expected. Although not yet confirmed, it is expected that the UCU will join other unions in a day of strike action on 30th November.
As of now, UCU members at Lancaster are 'working to rule', which means they will only carry out the work they are contracted to do. This will cause disruption to teaching, for instance it will become harder to arrange cover when an academic is ill and unable to teach.
However, Groves stressed that students should understand that they are not the targets of this action. "Unfortunately when industrial action happens at a university the students do get affected, we just hope that people understand that we're not just doing this for the hell of it," he said.
Related content: read more about the changes to USS.
Lecturers vote for further action
Further strikes likely in academics' pensions dispute