Lancaster marches over public sector pensions
683 total views
Public sector workers in Lancaster took to the streets on Wednesday, Week Eight to protest against the proposed changes to their pensions scheme.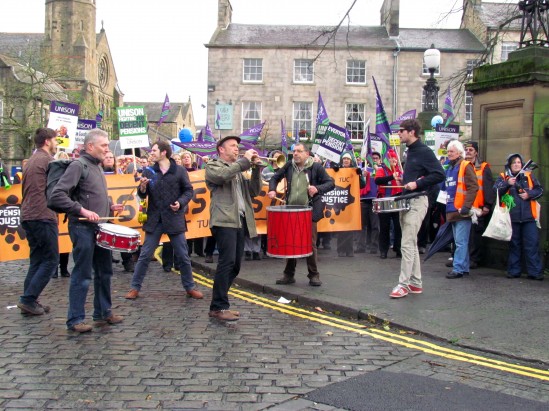 The protesters – including members of the public, students and children who joined in to show solidarity – started gathering at Dalton Square in Lancaster city centre as early as 10am with their banners, placards and balloons. Within an hour, the crowd grew to more than 1,500 people, according to a conservative estimate by a member of Lancashire Constabulary.
The local branch of the University and Colleges Union (UCU), which represents around 60 per cent of Lancaster University staff, also took part in the day of action.
The protesters formed a marching line stretching as long as 600 feet and paraded along parts of the A6 and Church Street in the city centre. Undeterred by the damp weather the street demonstrators remained high-spirited, blaring their vuvuzelas with percussion musicians leading the march.
Related content: staff on strike joined by students
By noon, the weather brightened slightly as the crowd gathered in front of the town hall in a carnival-like atmosphere. Representatives from various groups of public sector workers also addressed the enthusiastic crowd.
The protesters observed one minute of noise at 1pm before dispersing peacefully, with some smaller groups of protesters gathering at various points in the city centre to continue with campaigning and light entertainment.
A strong police presence was felt during the entire day of action. Lancashire Constabulary deployed more than 50 officers – on foot, in patrol cars and on horses – across Lancaster to direct traffic and maintain public order. Paramedics were also seen on standby at Brock Street. Apart from an unrelated, yet unconfirmed, arrest near Market Square, the entire event progressed peacefully.
The government has proposed to introduce some changes to the public sector pensions scheme in the view that it is currently unsustainable. The proposal includes requiring public sector workers to pay more towards their pensions fund, to work for longer and to accept a pension based on a "career average" salary, rather than on final salary. In protest to the proposed changes, various unions representing public sector workers collectively called for a nationwide day of action.