Indoor Frisbee leap to an easy victory in the open
437 total views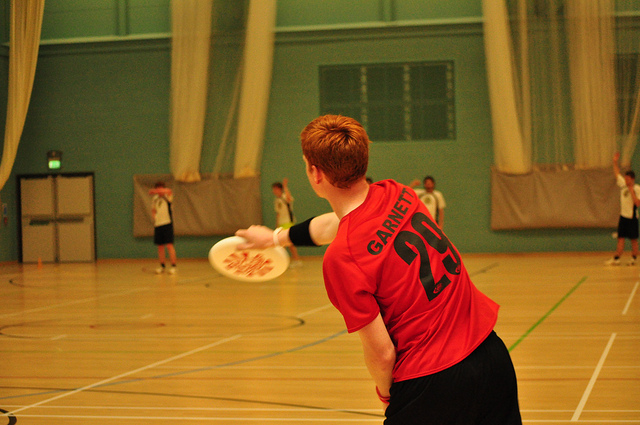 As things started to kick off in the sports centre and warm ups began with various ingenious stretches from both sides, it seemed obvious that Lancaster had a clear numbers advantage if nothing else.
Lancaster Captain, Will Doole, said: 'All of the tournaments we've been in this season with York in as well, we've positioned above them' so things seemed to be looking up in terms of getting the two points for the red rose.
Ultimate Frisbee is a self-refereed sport, but Fred Ingram from the Lancaster squad stood on the sidelines to acknowledge the time and the score throughout.
The first match of the evening started with Lancaster winning the disc toss and choosing to receive the disc from York. From here things seemed to get off to a great start, with Dave Nelson scoring within the first two minutes.
York pulled back two quick successive points and Lancaster altogether seemed to be coming across as showing a few nerves, missing key opportunities in the end zone and letting the disc slip through their fingers; despite some agile twists and turns from various jumpers.
But from 2-2, Lancaster stepped things up and the team drew together and in doing so saw the scoreline reach 5-2 to Lancaster with only eight minutes left.
These indoor games are kept short at only 25 minutes a piece, making for some pretty intense play with a lot of skidding and sliding from both teams. Both showed a lot of hunger to win. But as things were progressing, the scores grew further and further apart.
The Lancaster defence in the stack of players responding to the disc was kept strong with many interceptions meaning a lot of chances on a shot at the end zone. But York were stepping things up too, and there were a few moments of waiting things out for Lancaster near the end zone, trying to penetrate defence.
Peter Garnett made a beautiful stretched leap in the far corner to make it 7-3 and the gap spreads ever further.
York remained defensively strong throughout, and maintained this to the very end, and certainly had a lot of pace to pull back from Lancaster's attacks.
The final score came in at 10 -3 with some spectacular one handed catches. The Lancaster Frisbee Open team comfortably clinched the first two points on offer here at Roses.