Men's team share the spoils as Women's team loses
481 total views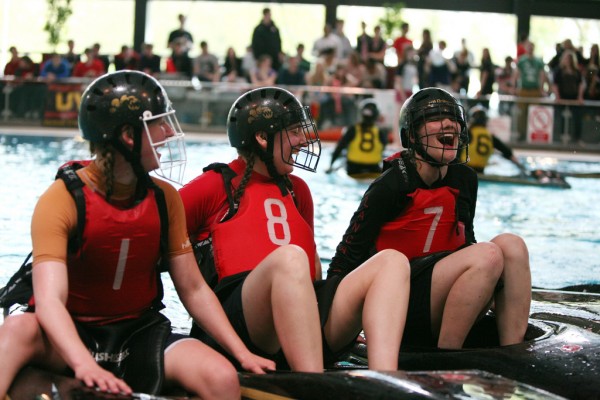 Lancaster Women's A's 0-4 York Women's A's
Lancaster Men's A's 2-2 York Men's A's
The Roses canoe polo matches that were played for points were to take place much earlier than originally scheduled on the programme. This meant that a large number of people entered the swimming pool area intending to watch the Men's As and the Women's As matches take place, but found themselves cheering on games including B team games, games for returning players and even some mixed gender games. In the games that were to take place for points, Lancaster were to lose 4-0 in the Women's As but grabbed a 2-2 draw in the Men's As.
Women's As
A serious incident which involved a Lancaster player having to be resuscitated, temporarily postponed the game just one minute before half time with the scoreline at 2-0 to York. Other games were played first, before the match continued from the 2-0 scoreline from the start of the second period of play. One of the stars in defence for Lancaster was Megan Rowlands who rarely let the ball pass her. With the score at 2-0, Lancaster were unfortunate as the ball ricocheted back off the bar.
Captain Laura Waterson and player of the match Danielle Beaver pushed on for Lancaster and if it wasn't for some great defensive work and goalkeeping from York, the scoreline could have been so different. With Lancaster failing to make their possession pay, York pushed forward and added to their lead, extending it to 4-0 before the full time buzzer sounded. Captain Waterson told SCAN "We played well but there is room for improvement. Even thought they beat us today, we finished above them in BUCS". Waterson also announced that she would be stepping down as captain of the team with Tori Kent the likely successor.
Men's As
The Men's A team game was fortunately less eventful than the Women's A team game, but was perhaps more exciting in terms of the overall result as it finished 2-2. There were also many more deliberate capsizing of opponents to take place within this game. The crowd often showed a concern for the submerged player and sometimes a nervous laughter when a player appeared to be under water for any prolonged period. For those that didn't get to the game, the signal when you are upside down and struggling is to put both hands on the bottom of the boat (now above the surface) before a team mate or occasionally an opponent comes to rescue you.
Alex Lucking and player of the match Craig Domville were the two goal-scorers for Lancaster in a tense encounter. Domville dominated the play for large periods and was unfortunate not to force a winner. Captain Jonny Stobbs has this to say after the game, "We showed great team work today and I am not disappointed with the result at all", before adding "next year we'll have them".