York Slice Through Lancaster at Roses
566 total views
Lancaster 4-5 York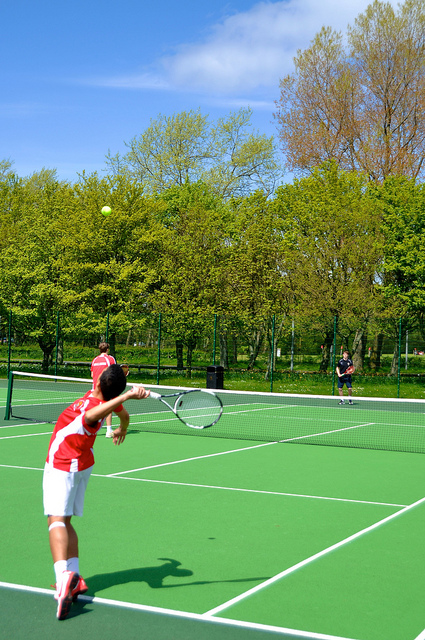 After the Men's 2nds won on Friday the Men's 1sts looked to repeat Lancaster's good form in the tennis. Down at the tennis courts the doubles started proceedings with captain Teddy Bennett playing with Chris Whalley on court 3, Nathan Worrell and Martin Eyre on court 2 and James Sandofrd and Chris Bell on Court 1.
Lancaster hopefully could establish a strong lead going into the 6 singles, which would follow the doubles. The doubles started greatly with two of three games resulting in Lancaster taking the first set. Both Bennett/Whalley and Worrell/Eyre took their first sets 6-4.
Sandford and Bell lost their first set 2-6 but were showing promise. The atmosphere court side was building as Lancaster showed great communication between one another, spirits were high, high fives flying around and Lancaster looked a great bet going into the second sets.
The second was much of the same with Bennett/Whalley dominating showing off great tennis particularly at the net winning in straight sets 6-4 6-2. Worrell and Eyre also were able to continue their fine form from the first set dispatching of  their opponents easily in straight sets 6-4 6-3.
However, Sandford and Bell failed to overcome strong opponents in a tough York team falling 6-2 6-3. With the score 2-1 to Lancaster confidence was higher than ever despite Sandford and Bell not making it a clean sweep in the doubles.
Bennett was particularly proud of his own performance following the doubles,' telling SCAN that "its been a great start, especially from the captain himself."
With the doubles finished, things were looking rosy going into the singles for Lancaster now 2-1 up. However this advantage didn't last long. Lancaster who seemed to lack the energy they so willingly showed off in the doubles, seemed to loose concentration and stamina which didn't bode well.
All four of the opening singles matches turned the way of the white rose. Whalley, was playing a strong opponent, showed flashes of brilliance in his singles match, but went down 1-6 3-6, unforced errors prooving pivotal. After showing class in the doubles, Bennet failed to reproduce anything near the standard we know he possesses, losing in straight sets easily 1-6 2-6.
Martin Eyre and Chris Bell also failed to overcome a tricky York team, losing in straight sets 3-6 2-6 & 0-6 1-6 respectively. York had gained an unassailable lead, with the score now 5-2 Lancaster were now playing for pride in the last two singles matches.
Worrell and Sandford both made sure Lancaster didn't go down without a fight. Easily defeating there York opponents showing skillful, attractive tennis pulling the scoreline back to something more reasonable. With Worrell winning 6-0 6-1  and Sandford 6-4 6-2 this called an end to the Men's 1sts tennis at roses, with York continuing theyre brilliant form at roses in the tennis, winning 4-5.
Captain Teddy Bennett brutally honest words at the end of his singles match summed up Lancaster's disappointment, telling SCAN "an embarrassing performance in the singles, everything that could have went wrong, did." After such high spirits following the doubles it is a shame to say Lancaster's Mens 1sts again lose at Roses.
In previous years the Men's 1sts have struggled to get anywhere near a strong York outfit in the Tennis. If not for a better performance in the singles from Lancaster men , the end result could have been quite different.