Blog Watch: Fashion
1,689 total views
'The age of the printed press is over,' or so declared experts across the globe as online news began to develop over the last decade. Unfortunately for such analysts, media moguls are still rolling in money, having embraced the ever-developing social media technology. With this move came the wave of fashion bloggers, ten a penny in the virtual world but as influential and as feared by the media as any experienced stylista.
These days any self-confessed lover of clothes runs a fashion blog, myself included, but with this onslaught of Blogger and WordPress accounts, how does one find the digital gem in a mine of outfit posts and dull product reviews? Below I have compiled a list of my top reads, blogs which I choose to click onto every day. These views are entirely personal and each blog has been chosen for different reasons; some blogs have pretty humorous content whilst other bloggers make the cut due to their cracking style.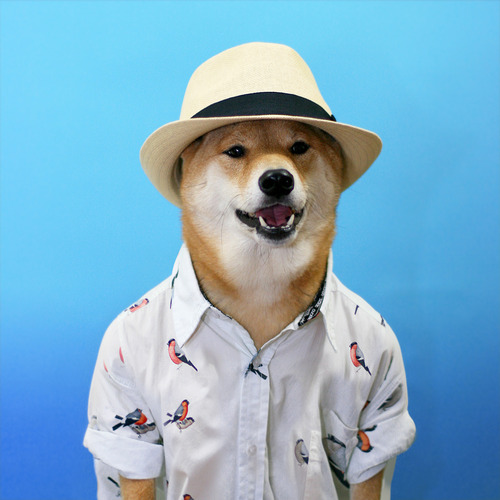 Menswear Dog, a site dedicated to the most beautiful formal wear which any stylish bloke should be lusting after, comes with a twist. Every fabulous piece, from Yves Saint Laurent ties to Prada suits are modelled by a three year old Shiba Inu from NYC. This exciting fashion manoeuvre means that well-dressed men everywhere can browse the latest fashion trends whilst having a giggle at the expressions this canine pulls, along with the appropriate memes created by his owner David; 'Barking Bad' is a current favourite.
Another blog high on the fashion radar is Advanced Style, a site dedicated to the chic pensioners on New York. This blog aims to verify the age-old idea that your elders do indeed know better. From dapper silver foxes in brogues and bow ties to the more mature woman in designer jewels and wide brim Audrey Hepburn hats, Advanced Style is great for inspiration, helping you steal a few style tips from the older and more confident generation!
Effiesmakeupbox.blogspot.com is one of my all-time favourite reads. The flame-haired Heather has a very quirky style which includes kitsch prints and rainbow dyed jumpers, what's not to love?! Heather, a professional stylist, (with excellent music taste may I add!) is great inspiration for anyone looking to refresh their wardrobe with statement pieces for each season. Although refreshingly original, each outfit post gives a nod to current trends allowing you to think outside the box without straying too far from this season's door.
For more on trend posts with a sixties twist look no further than Whatoliviadid.com. This blog, nominated for a Cosmo blog award for the second year running does not disappoint. Filled with cutesy posts about day to day life and peppered with beautiful pictures, Olivia's blog makes life seem a lot sweeter, whilst showcasing the most gorgeous vintage-inspired pieces to add a little retro style to your wardrobe.
Ironically my favourite blog has no influence on my specific wardrobe choices, but reinforces the idea of individuality and having fun with fashion.
Alioutfit.tumblr.com documents the daily style choices of Ali, an 83 year old retired tailor living in Germany. Ali models a whole host of outfits, accessorized with various hats and bags. His wardrobe contains a whole host of looks including head to toe camouflage wear!
This blog never fails to brighten up a rainy Lancaster morning and although maybe not the easiest or the most likely reference for up to date and on trend styles, it certainly encourages you to be a little more experimental in your clothing choices!
My top five daily choices are always changing, but hey that's the beauty of constantly expanding and advancing social media tools available to the fashion conscious around the globe. The rise of the humble blogger doesn't look to limit or hinder fashion publications; rather their presence in this ever-evolving sphere seems to strengthen the industry, encouraging the individual to take a more proactive role when it comes to clothing.