Interview: Metrik
643 total views
You start your big tour today in Baltimore ? Are you looking forward to it?
Yes, I am about to head out to North America today; playing at a music festival in Baltimore then a club night in Vancouver. Really looking forward to it.
Where are you looking forward to playing most, apart from Lancaster as the first obvious answer?
Obviously Lancaster yes but also the shows I've got coming up for the rest of this month. This week I'm playing at Hospitality in Amsterdam in a club called Paradiso which has hosted a range of well-known musicians over the years. The building is actually a huge church, so I may have to wear a priest's dog collar for the night (laughs). I'm also looking forward to Liquicity in Antwerp, playing in Rome for the first time and WEAREFSTVL in Essex at the end of the month.
What made you decide to come to Lancaster? Plan to get up to much while you're here?
Unfortunately I am only here for the one day but Lancaster's castle seems like such a cool venue to play in. It will be my first time in the city and also the first time in a prison. Ironically, one of my teachers told me when I was a kid that I would end up in prison.
Oh no – I guess now perhaps you can send a selfie to your teacher and show him that he was right!
Yes I'll relish the moment.
What are some of your favourite venues around your hometown of London? Where you have played or listen to music?
Fabric is the club that I first experienced a drum & bass night so it holds a special place in my heart. Building 6 in the O2 Arena where my record label, Hospital Records, has it's residency is an amazing space too. I also went to a show recently at Tate Britain for Rinse FM's 20th birthday which was really cool.
And is Fabric not getting shut as well from what I have heard?
There were talks of it but in the end the local borough just imposed a slightly stricter license. As far as I'm concerned, as long as these clubs stay open, I'm happy – they play a vital role in the music culture of our country.
Have you played there yourself?
I played there for the first time last year. I got a big group of my mates together, ones who I used to go out to raves with years ago, and they all joined me so it was great to have in the booth. I played in room 2 which is a place we all have many fond memories of.
On the topic of places you have played, you did an Arcadia show on the touring stage at Glastonbury, how was that?
It was very surreal. It's a giant mechanical spider shooting fire and steam so naturally it looks pretty amazing – like something out of Mad Max.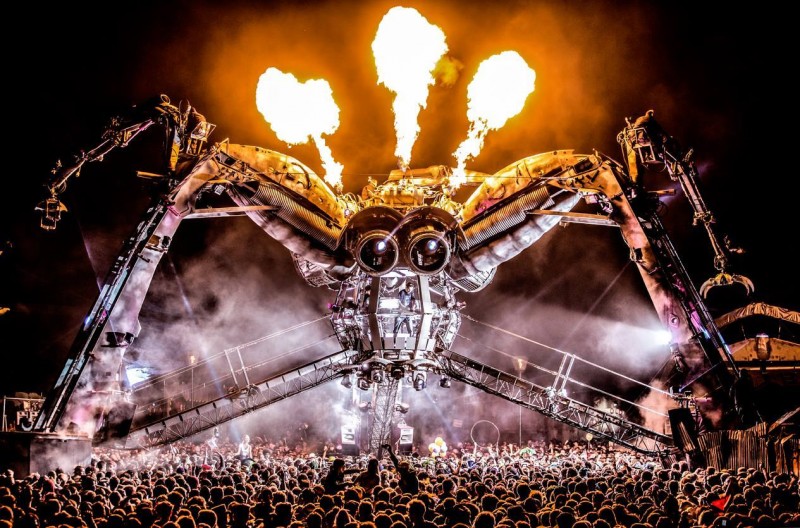 Did you get a chance to be an audience member to experience other music yourself? The audience get to see the spider throw out flames of fire!
Funnily enough, from where you play you do not feel the heat of the fire because you're in a small pod. The view from up there is pretty spectacular; when you look around there are 10,000 people around and beneath you. It has definitely been one of the highlights of the last few years.
High Contrast is on the Lancaster bill with you. Have you played together before?
Yes, I've played alongside him quite a lot since joining Hospital. Usually we tour together as a big group. He is a really interesting guy and I have a lot of respect for him musically, as an artist and a DJ.
Who else will you be playing with on your tour?
I am going on after DJ EZ at the end of this month at WERFSTVL. He is someone I've always had a lot of admiration for.
Regarding your busy schedule – what type of music do you listen to unwind?
I try to immerse myself in music all the time – especially as when you are making music it is key to stay inspired. I enjoy discovering new music – I often go on missions to find interesting and obscure stuff. Recently I've been listening to a lot of film / video game composers like Ludovico Einaudi and Ryuichi Sakamoto. In terms of music to unwind to, Ulrich Schnauss and Tycho usually do the trick on the more ambient electronica tip. I've also been really impressed with Madeon's new album. Generally, I have a broad listening taste so whether it's pop, rock or electronic it usually finds it's way onto my playlist. I also re-discovered my love for Nirvana after watching Montage Of Heck – highly recommended if you were ever into that band as I was in the 90's.
You have collaborated with a few artists and remixed a few songs – I particularly like your version of Gorgon City's 'Unmissable'. What are your plans for the future in terms of collaborations and remixes?
At the moment I am working on a remix for Enter Shikari, a record off their new album. And I am also working on a collaboration with TC. My main focus right now is new material for my second album.
All this music adds up to playing live at lot! What do you enjoy most about playing live?
It's the whole package really. Nothing quite beats having produced a brand new track, something nobody has ever heard before and then testing it on the crowd. If goes down well then that's just about the best feeling ever. Also the energy that you get from a live audience is incredible, it's a real rush. I love travelling as well, going to new places and meeting new people. Flying is good to clear your head as it's one of those rare occasions you can genuinely just switch off and not be distracted by phones or social media.
You mentioned that you won't be able to stick around for the rest of the two nights of A-Wing dance/electro/drum n' bass mini-night-festival, but will you be playing and seeing music at festivals this summer?
WEAREFSTVL, EDC Las Vegas, Innovation, Nozstock (which is closer to home in Herefordshire), Pukkelpop, Shakedown, Let It Roll to name a few. So basically the festivals I will be playing at will be the festivals I will be both as a musician and festival goer.
Metrik will be playing alongside High Contrast and the local Bass Race DJs at the Lancaster Castle as part of A-Wing on Friday, week 5. A-Wing will run until the Sunday night, with guests such as Mark Knight, Pete Tong and High Contrast. Tickets are available online at www.awinglancaster.co.uk.