NYFW Makes A Bigger Impact Than Usual
566 total views
It's September, and for the fashion pack that means one thing, it's the Spring / Summer fashion weeks. From September the tenth until the end of the month, New York, London, Milan and Paris will be taken over by designers, models, stylists, celebrities, journalists, bloggers and anyone who managed to get their hands on a ticket to the live event.
Starting off in New York, the likes of Diane Von Furstenberg, Victoria Beckham, Marc Jacobs, Alexander Wang and many more paraded their latest creations to the fashion elite. Apart from a minor slip up, literally, from model Candice Swanepoel who fell on the runway during the Givenchy show, all in attendance, and those drooling over their laptops watching at home, seemed to be in agreement that the week had been a marvellous success for all involved.
And amongst the conversations about wish list items from the unveiled collections and who was lucky enough to be on the front row, a particular topic was generating a significant buzz. That topic was the unprecedented number of plus size models apparent on the catwalk. Model and designer Ashley Graham, famous for her Sports Illustrated ad, chose to feature exclusively curvy models showcasing her plus size lingerie collection, and brand Chromat featured Sabina Karlsson and Denise Bidot, plus size modelling legends, in their line up. The Project Runway show, featuring collections from the finalists on the reality television show that see's fashion designers compete against one another, included a plus size collection for the first time. Designer and a judge for Project Runway, Zac Posen, said of that particular collection, "I'm very proud of it. It's a big moment for not only the runway, but New York Fashion Week."
Undoubtedly, the biggest campaigner for plus size models was Marc Jacobs in his choice to cast Beth Ditto, plus size American singer-songwriter and member of the indie rock band The Gossip, in a rather risqué white gown and fur stole. With a plunging neckline and thigh high split, the dress left nothing to the imagination. For a high-fashion designer like Jacobs to feature a plus size model in his show amongst other models such as Kendall Jenner and Emily Ratajkowski is noteworthy, but to do it at NYFW is big news. While Victoria Beckham is receiving flack on Twitter for casting "skeletal" models, Jacobs is at the other end of the spectrum celebrating real women's natural beauty.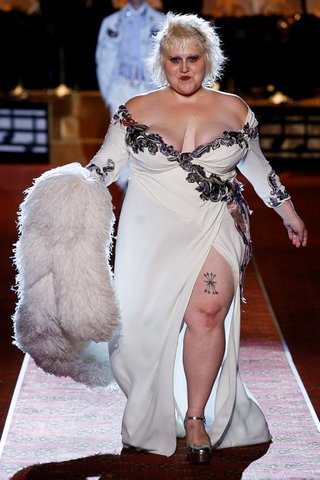 Though Ditto did appear at Paris Fashion Week five years ago modelling Jean Paul Gaultier's collection, she was the only plus size model to make headlines and her inclusion had to be defended by Gaultier. He told reporters after the show, "what counts is personality, there is not just the one form of stereotyped beauty. This collection's pleats can be worn by any size and adapt to different body shapes." With Ditto now in good company at New York Fashion Week, does this signal a change in the fashion industry's thoughts of plus size models?
Perhaps, especially as this year saw the third annual Plus Size Fashion Week take place in London before the official Fashion Week kicked off. I, for one, hope this is a change towards acceptance and appreciation of plus size models, for all women are beautiful regardless of their body shape. After all, if the definition of 'skinny' gets any smaller, we won't be able to fit.
Save