Is Strobing the New Contouring?
561 total views
Goodbye contouring, it's time to make way for strobing! If you've never been able to master the art of contouring your face into a chiseled masterpiece, fear not as there is a new, easy makeup trend expected to boom in 2016 and knock contouring of its make-up mantlepiece.
Strobing has been around for a long time, adored by many red-carpet celebrities such as Jenifer Lopez, and has gained popularity after its increased use on runways around the globe. Strobing focuses solely on highlighting the high points of your face, giving a dewy, healthy look to skin. No tricky sculpting or contouring is required, but the effect is equally as beautiful. What's even better is that strobing takes less time to do than contouring, which is always good when you have to rush for a 9am lecture!
How to achieve the look
Hydration
Moisturising and priming are crucial aspects to achieving this look. Simply apply products to your face, then have a cup of tea or coffee while you wait for the products to skink into your skin.
My favourites:
Simple Kind to Skin Hydrating Moisturise (Boots £3.49)
Maybelline Baby Skin Instant Pore Eraser (Boots £7.99)
All about that base
Mix one part liquid highlighter with two parts dewy liquid foundation. The longer you spend buffing the foundation and highlighter cocktail into your skin, the more natural the finish looks and the easier it is to trick people into thinking your skin is naturally so glowing. For concealer, use a corrector pallet for any blemishes and dark circles and a highlighting concealer under the eyes.
My Favourites:
Rimmel wake me up foundation (Boots £8.99)
Sleek Barekissed Illuminator in Monaco (Boots £8.99)
Colors Professional Makeup Concealer Camouflage Bronzer cream Palette Kit (Ebay £1.99)
L'oreal Lumi Magique concealer (boots £8.49)
Real Techniques Expert Face Brush (Ebay £4.10)
Highlighting
And now for the fun part! Take the same highlighter you mixed in with your foundation and apply to the high parts of your face – your cheekbones, cupids bow, chin, brow bones and bridge of your nose. Use your foundation brush or sponge to gently blend the product into your skin.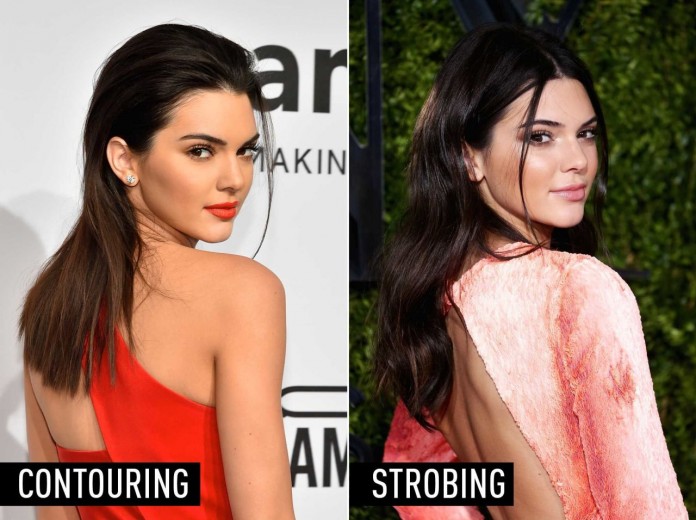 Here you have the quick and easy formula for healthy, dewy looking skin. You can look like a red carpet celebrity, even when you have to rush for your seminar that's in half an hour. This is forecast to be a huge beauty trend in 2016, so perfect your strobing skills now before the hype kicks in!