UCU Announces Strike Dates For Campus
3,557 total views
Academics' trade union UCU will be on strike at Lancaster University for 8 days from 25 November to 4 December over pensions, pay and conditions.
For the second time in two years, academics and academic-related staff represented by the University and College Union (UCU) will be going on strike at Lancaster University. The news follows just over a week after a vote of the Students' Union at their AGM to fully back any industrial action.
The first wave of strikes will hit universities later this month unless the employers start talking to us seriously about how they are going to deal with rising pension costs and declining pay and conditions.

Dr Jo Grady, UCU General Secretary
UCU members across the country, represented by branches at each university, had voted in two different strike ballots from 9 September to 30 October. One of the ballots was over the pensions scheme USS, which was also the reason for the 14-day strike in February 2018 by Lancaster University staff. The other ballot was over pay and conditions, in particular over inequality, casualisation, workload, and salaries.
Results of the ballots were announced on 31 October. In the pensions ballot, turnout at Lancaster was 57.2%, with 83.7% voting for strike action and 88.3% voting for action short of a strike (ASOS), such as working to contract or a marking and assessment boycott. In the pay and conditions ballot, turnout was 57.6%, with 78.7% voting for strike action and 85.2% voting for action short of a strike.
Lancaster University UCU members have given the Union a strong mandate for industrial action in the two ballots which closed last week on USS pensions, pay, equality, casualisation, and workload. We have been left with little choice following the employers backtracking on their commitment to support the implementation of the JEP (joint expert panel on pensions) leading to rising pension costs for our members; and the refusal of universities to deal with issues like precarity, equality and workload that have all reached a crisis point impacting on our member's health and wellbeing. The ballots show just how unhappy and angry staff are at the state of higher education in the UK and universities must take our concerns seriously.

Sunil Banga, UCU Lancaster Vice-President
A spokesperson for Lancaster University told SCAN:
Lancaster values the high quality staff we have here. They help to make Lancaster the successful and vibrant university it is and we are committed to achieving the best possible and fairest pay and pension for staff, but it must be affordable and sustainable for the long term. We have a longstanding partnership agreement with our trade unions locally. However, this dispute has arisen nationally as a result of national pay and pension issues.


The impact of any industrial action on our students is very concerning, and colleagues across the university will be working hard to minimise disruption and ensure, as a priority,  that students are supported in their studies and assessment.


We will continue to have open dialogue with our campus trade unions to ensure we navigate this industrial action in a sensitive way.

Lancaster University spokesperson
Trade union reforms introduced under David Cameron's Conservative government in 2016 mandated the requirement of 50% turnout in any strike ballot, and 40% of all eligible voters voting in favour of strike action as an additional threshold. The government described these changes as protecting people "from undemocratic industrial action," but UCU at the time said the legislation was "draconian and interventionist" and a "blatant attack on unions… which will only serve as a strain on industrial relations and weaken the position of employees in dealing with intransigent employers."
In the build-up to the vote, trade union members at Lancaster were visited by the new General Secretary of UCU, Dr Jo Grady, a Lancaster University alumnus. Dr Grady completed her bachelor's, master's, and doctorate at Lancaster, and her PhD thesis was on pension reform and the trade union movement. She went on to teach industrial relations at Leicester and Sheffield before her election in 2019 as UCU General Secretary. Dr Grady spoke at Lancaster on 1 October as part of a national tour of UCU branches.
Two other trade unions, UNISON and Unite, simultaneously balloted higher education staff, including those at Lancaster University, to strike over pay. UNISON's ballot closed on 30 October, and around 66% of members who took part voted to strike, but the turnout did not meet the 50% requirement. Similarly, Unite members voted 73% to strike, but failed to meet the turnout requirements. UNISON's head of higher education, Ruth Levin, commented: "Yet again, the anti-trade union laws have stopped our members being able to take action in pursuit of an improved pay offer."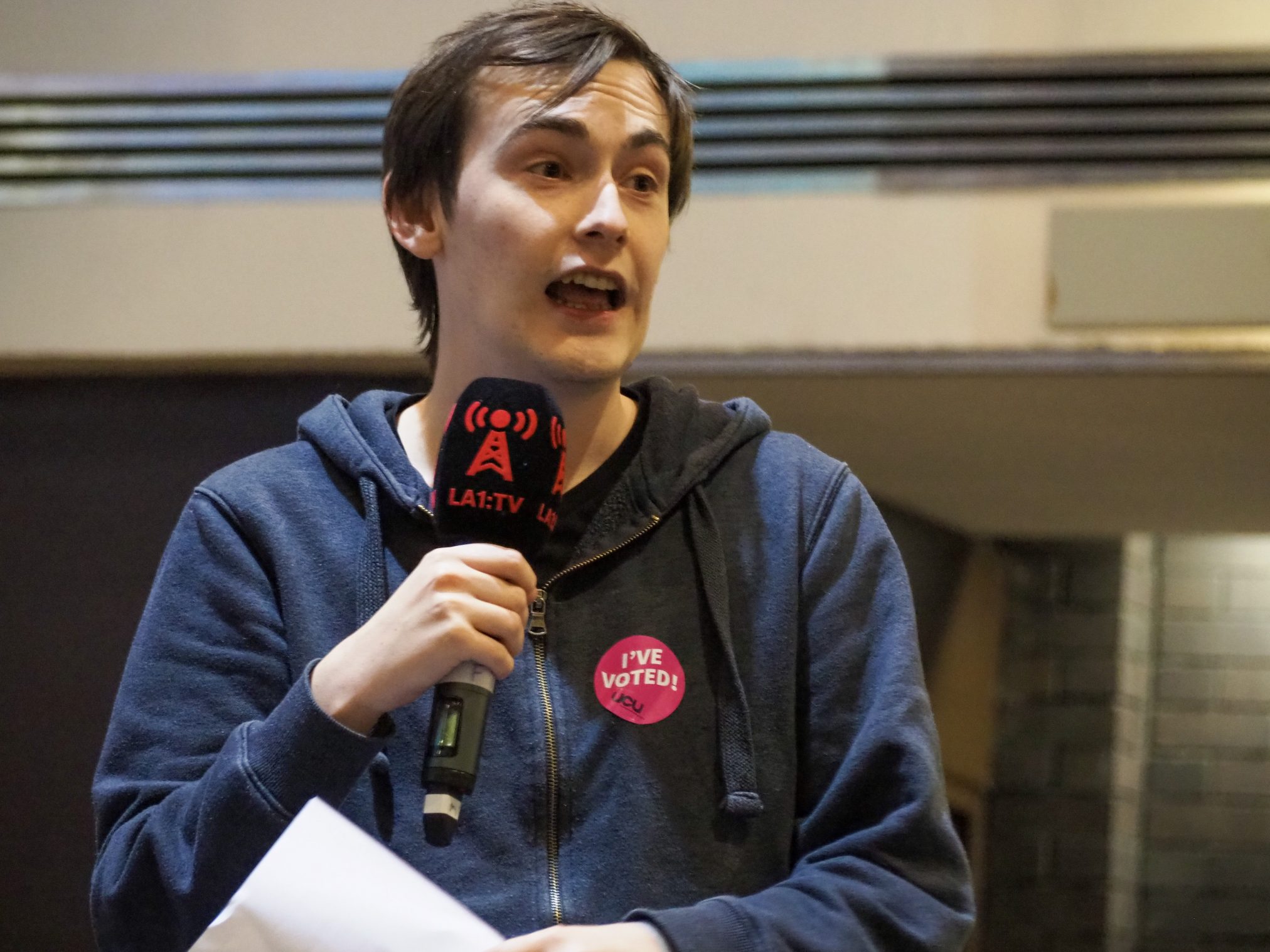 When Lancaster University UCU voted to strike in 2018, the Students' Union Executive Committee met and decided a position of neutrality. In a statement at the time, they announced they "would take the position of supportive communication" as they did "not wish to see this action go ahead." During the Students' Union's Annual General Meeting on 28 October this year, a motion to discuss the (then potential) strike was put down by VP Education Bee Morgan and seconded by SU President George Nuttall. The motion could have led to the same SU position as in 2018.
Amendments were proposed by Joe Adams, a Students' Union and UCU member in his capacity as a PhD student who is a Graduate Teaching Assistant. The AGM passed these amendments and the amended motion, which bound the Union into fully backing industrial action and mandating "all of its officers to take action to support" the strike. This brings Lancaster University Students' Union in line with the policy of the National Union of Students and other SUs, such as Goldsmiths.
Cllr Katie Whearty, who represents the university campus on Lancaster City Council, told SCAN:
I'd like to extend my full solidarity to all university staff who have voted in favour of industrial action. I was delighted to see the amended motion concerning industrial action pass at the recent AGM, highlighting the feeling of support for their lecturers from students and acknowledging that good working conditions for staff goes hand in hand with enabling staff to provide for students. This is why it's so important that students and staff stand together concerning the strikes. I know Jack, Oliver and I will be standing on the picket lines in support of our staff and I hope that many other students do so too.

Cllr Katie Whearty
SU President George Nuttall provided the following statement to SCAN:
I am pleased that students voted to support the strikes that will be happening later in the term. I think it is important that the Union stands in solidarity with the trade unions on the issues over which staff are striking, such as the gender-pay gap, pay and conditions. Also as many Students' Union members will be striking as postgraduate students that teach, I think it is only right that their Union supports them. Myself and the other officers will be working hard to make sure all students are supported and know their academic rights.

George Nuttall, President of Lancaster University Students' Union