All I Want For Christmas Is… Your Vote!
1,518 total views
General Election fever hits Lancaster campus
The general election campaigns of the five political parties contesting Lancaster and Fleetwood are well underway, in particular on the University campus.
A lot of Lancaster University students will weigh up where their vote is most useful, as they will be registered to vote at home and University. The more marginal the seat, the more value their vote will have. However, Lancaster and Fleetwood could arguably be decided by the transient UK student population, which numbers over 9,000. The 12th December election date could be significant as the end of term is the following day, many students may have left to go home.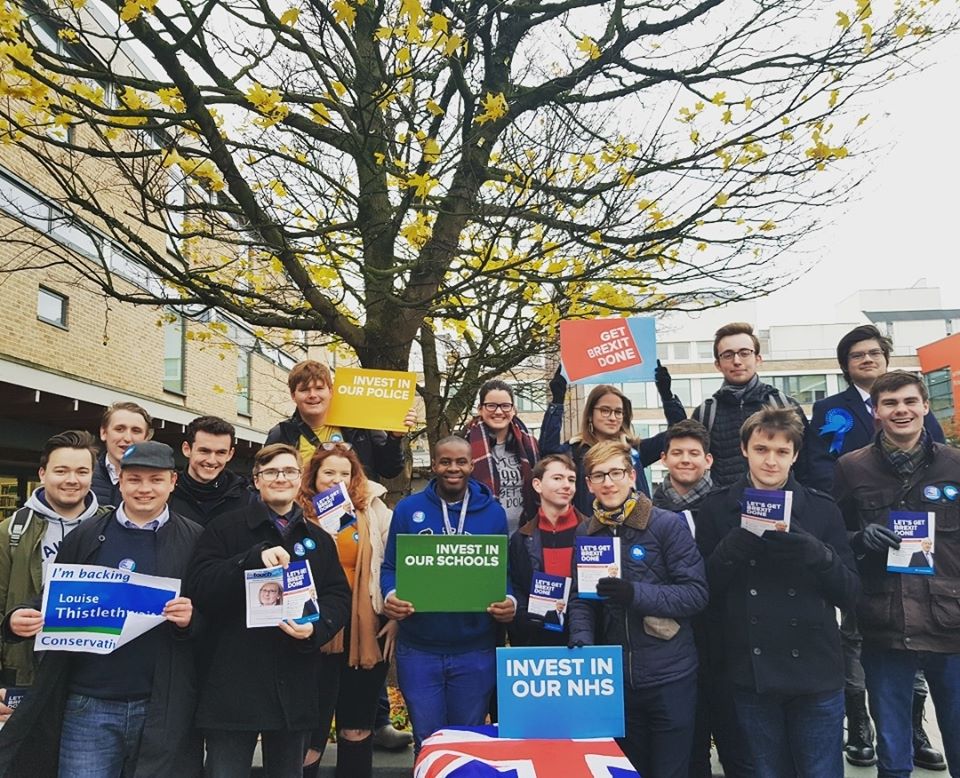 Cat Smith represents the Labour Party and previously held the seat. According to a House of Commons Library briefing paper, the constituency was the 75th most marginal Labour seat following the 2017 election, with a majority of 6,661 votes. In contrast, neighbouring Morecambe and Lunesdale, currently held by Conservative David Morris, is the 24th most marginal Conservative seat so a definite Labour target. The primary challenger in that seat is Lizzi Collinge of the Labour Party.
Students from the political societies on campus have been busy campaigning for their respective parliamentary candidates. Both the Conservative Society and the Labour Club have had stalls in Alexandra Square. Earlier in the month, a reporter from BuzzFeed Politics came to the campus and interviewed several members of the societies. The Conservatives, Labour, and the Liberal Democrats have also been involved in the campaigns beyond the University and as far afield as Westmorland and Lonsdale.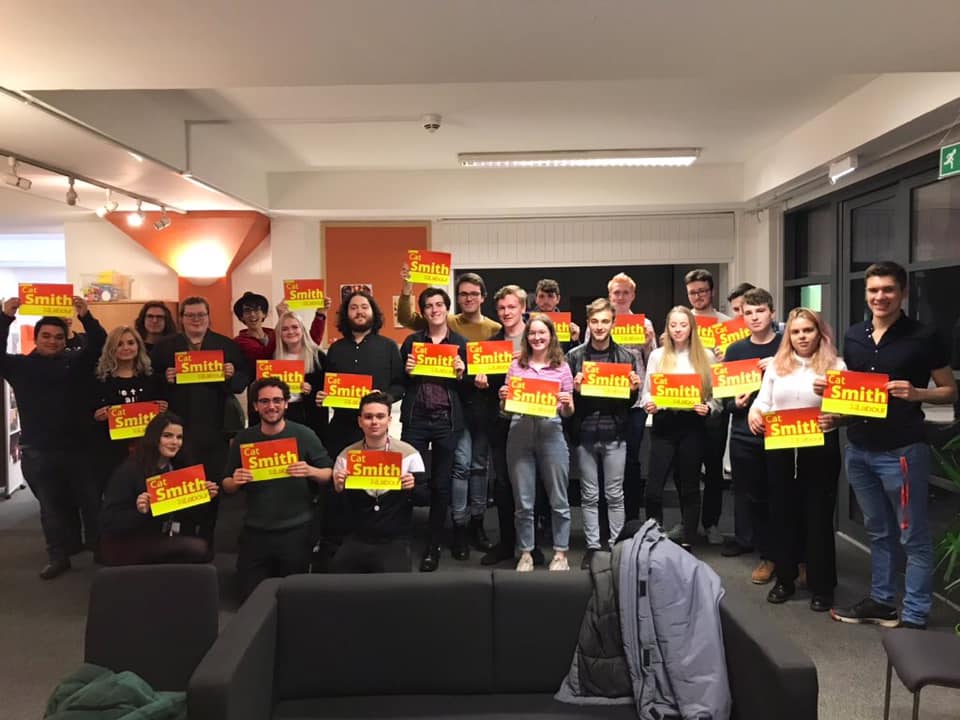 Both of the primary national party leaders have involved themselves in the campaign in Lancaster and Fleetwood. Jeremy Corbyn, Leader of the Labour Party, visited the University campus on 15 November to launch the party's broadband policy. Boris Johnson, Leader of the Conservatives, has visited Thornton, two miles south of Fleetwood, where he announced that he would support the re-opening of the Poulton to Fleetwood railway line.
The candidates running are Leanne Murray from the Brexit Party, Louise Thistlethwaite from the Conservative Party, the Greens' Caroline Jackson, Labour's Cat Smith, and the Liberal Democrats' Peter Jackson. Louise Thislethwaite taught at the University while Cat Smith is a Lancaster University alumnus.
SCAN was able to speak to a number of the candidates about what they will do for students.
Leanne Murray, Brexit Party parliamentary candidate, provided SCAN with a press release:
We need to redress the political events of the past three and a half years, and finally leave the European Union, as our country voted for in the referendum.

I am both honoured and humbled to be standing as a candidate for the area that I call home, and if elected, I will fight for a better future for all residents, and campaign for better housing, improved social care and more funding for youth services, along with many other important local issues.

Leanne Murray – Brexit Party
Caroline Jackson, the Green Party candidate, told SCAN:
As Green Party candidate I fully support our Green Manifesto pledges to scrap student fees and also to cancel student debt already incurred. This should end a huge burden of stress for students and post graduates. We are pledged to continue our unswerving campaign to remain in the EU and to support a People's Vote. This means we would also retain the hugely beneficial Erasmus Project. Other manifesto pledges that help students include a determination to ensure that rent controls are introduced for both individual landlords and purpose built blocks. Landlords will have both to keep their property safe and in proper repair and to comply with high standards of insulation.

In particular for Lancaster students we would:

– work with Stagecoach to ensure there are adequate buses at peak times and to improve provision for safe cycling throughout the area

– improve access to health services and in particular ensure more provision for mental health and well-being for young people

– support the constituency to receive grants for business start ups and research and development based on students' work done at the universities

Caroline Jackson – Green Party
Cat Smith, the Labour Party candidate, said:
As a Lancaster University graduate, I know that you will be enjoying studying in our city. I appreciate this is a particularly challenging time to be a student. Under the current Government universities are treated as private businesses rather than public centres of learning. As a result of irresponsible policies such as the trebling of tuition fees and abolition of maintenance grants you are paying more for less.

Things need to change. A Labour Government will end the failed free-market experiment in higher education, abolish tuition fees and bring back maintenance grants. We will ensure all public Higher Education institutions have adequate funding for teaching and research, widen access and end the casualisation of staff.

But I appreciate you will also have concerns that go beyond immediate university life.

You will want to know that once you graduate you'll be able to enter well-paid work, live in a decent home and, above all, on a healthy planet. This is why Labour is committed to £10 per hour living wage for all workers, ending no fault evictions and capping rent increases at inflation. Our Green New Deal will create a million new jobs, putting the UK on-track for a net-zero-carbon energy system within the 2030s.

Finally, I know that on the biggest political issue of the day you want your voice heard. Labour will give you the chance to have your say in a public vote on the final Brexit choice, with a vote between Remain and a concrete leave option.
The Conservative and Liberal Democrat candidates did not respond when contacted by SCAN.
According to her website, Conservative candidate Louise Thistlethwaite, plans to:
Deliver Brexit – 'Then we can get on with securing a better, brighter future for you, your family and for Lancaster and Fleetwood.'
Living Standards – 'To ensure everyone in Lancaster and Fleetwood has access to affordable housing.'
Rural Communities – 'Helping those who work in agriculture to thrive'
Water Management – 'To ensure Lancaster and Fleetwood's flood defences are effective.'
Law and Order – 'Reducing crime and anti-social behaviour across our community.'
Health – 'To enable our residents to live healthier lives for longer and to provide the care they need, when they need it.'
Peter Jackson, the Liberal Democrat candidate, said:

Liberal Democrats have a clear view about Brexit. A majority Liberal Democrat government will use the mandate from the people to revoke article 50 and end Brexit on day one. Imagine that – no more Brexit news, ever! In any other situation, we support a second referendum.
Liberal Democrats say vote for change, reform our broken electoral system, return power and funding to local government, a responsible approach to improving services. The Institute for Fiscal Studies describes Labour and Conservative Manifestos as "not credible" and the Liberal Democrat Manifesto as credible. Common sense government, business-friendly and committed to public services.

We will urgently address the climate emergency, best done as a leading nation within the EU. Liberal Democrats will make all new build homes carbon neutral, fund insulation for 4 million existing homes, double renewable power generation, ban new petrol and diesel cars from 2030, and plant 60 million trees every year. A carbon neutral UK by 2045. A vision to support and build the green economy.

Our manifesto is best for the poorest 10% (Resolution Foundation). Poverty and inequality have grown. Leaving the EU will increase them. A Liberal Democrat government will increase funding for the NHS, education and policing, spending the "Remain Bonus".

If elected I will be energetic in dealing with your problems, and actively seek positive developments for Lancaster and Fleetwood.

Can we fix Broken Britain? YES! Vote Liberal Democrat.

Peter Jackson- Liberal Democrat
By News Editor Andrew Williams and Deputy News Editor Georgia McKenna