The Man. The Myth. The Mamba.
1,081 total views
Kobe Bryant among 9 killed in tragic helicopter crash.
Everything negative – pressure, challenges – is all an opportunity for me to rise.

Kobe Bryant
Yesterday, Sunday the 26th January, news spread originating in American media outlets that Basketball legend Kobe Bryant, aged 41, was tragically killed in a helicopter crash. As the dust settles from what was an emotional day, it is now understood that a total of nine people were lost to the tragedy. Bryant was travelling with his 13-year-old daughter, Gianna to a basketball away game. Others included college baseball coach John Altobelli, his wife Keri and their daughter Alyssa. Also on board was basketball coach Christina Mauser, a mother of three. At the time of writing, the pilot and other two victims have not been named by California authorities.
I, amongst many around the world, found myself close to tears yesterday as the news broke. Not only is this the loss of Kobe Bryant as an extraordinary player, but the loss of what his legacy was becoming as a coach for young girls, including his daughter. Kobe threw himself into many new efforts and pursued them with excellence. These efforts include the Mamba Academy, a sports academy which taught young athletes. Bryant also won an Oscar for his short film 'Dear Basketball', a beautifully produced piece on how basketball inspired him and how it made him the man he was known to be.
He threw himself into being a father, a husband and a better man once his career had finished, maturing and attempting to reconcile the mistakes made and time lost in his youth. For many pundits, athletes, commentators and fans the sentiment is shared that underlying this sadness we all feel, is a feeling that much more was to come.
Bryant entered the league straight out of high school at the young age of 18. In fact, at the time, he was the youngest to ever play in the NBA, which led to doubts from older players. Initially drafted by the Charlotte Hornets in round one, he immediately was traded to the Los Angeles Lakers; Kobe Bryant would spend the next 20 years of his career at the there. Growing up in both Italy and Philadelphia, Bryant loved basketball, most likely helped by his father's professional career. Kobe always expressed his deep love for the Lakers, admiring legends such as Magic Johnson growing up. So the Lakers move was a dream come true for Kobe and an opportunity he would grasp wholly and magnificently.
Kobe played 20 seasons with the Lakers; winning 5 championships, 2 finals MVP'S, 1 league MVP, 2 Olympic gold medals, 2 scoring championships and four all-star MVP's. These are only a few of his achievements.
Many believe that what made Kobe so special was his attitude to life. As the above statistics show, all Kobe ever wanted to do was be greater tomorrow then he was yesterday. He inherited this mentality from one of his idols, the legendary Michael Jordan. Kobe wanted to be the fastest, compete the hardest, win the most and be the greatest that ever was.
Fans of Kobe would come to call this the 'Mamba Mentality', the mentality that he would kill anyone that got in his way. This sometimes made him loved, and sometimes made him hated. But ultimately it made him one of the most respected athletes in the world.
Kobe's attitude and work ethic inspired way beyond basketball, anybody who now talks of him, knows his transcendence from basketball to sporting icon.
Last night, the tributes for Kobe came pouring in.
In football AC Milan, Barcelona, Arsenal, PSG and so many more teams show their love and appreciation for Kobe. Neymar celebrates his penalty with holding up two and four fingers, a celebration of the 24 jerseys Bryant famously wore. In golf, 'Mamba' chants are shouted at Tiger Woods, a friend of Kobe's and admirer.
At last night's Grammy Awards, Kobe was hailed and remembered by the audience with host Alicia Keys giving a heartwarming message about the loss of the star. Twitter erupted with pleas of 'Dear God' and messages of admiration and prayer for Kobe.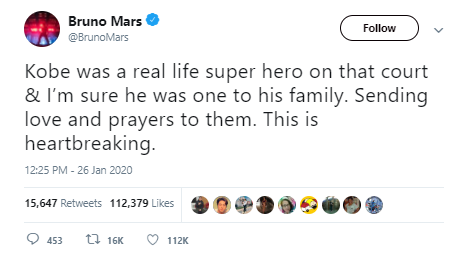 For many Kobe was a superhero, he inspired the masses and matured into a man that just wanted to make others greater. Many players become great basketball players, but a special few basketball players become great. Kobe is the only Laker to have two jersey numbers retired, his impact is so profound that Mark Cuban, owner of NBA's Dallas Mavericks, has stated he wishes to retire his number as well.
Kobe was one of the greatest athletes of all time and from myself and the SCAN Sports team, we offer condolences and express great sadness for all those who have lost their lives in this tragic incident. From myself as a fan, thank you Mamba for all you were and the legacy you leave.
Rest in peace.