I went to the new post-COVID Glow and…well.
5,877 total views
When you can't rely on the crush of a hundred people to hide your drunk dancing, nightclubs become a very different experience indeed.
Me and two of my housemates booked tickets for Glow's Zoo Night on Tuesday 29th September (exceptionally last minute because you know how it is), for a 7PM entry. This in itself was probably the weirdest thing about the night. I rushed to get ready after tea and was hounding my friends out the door at about 7.12PM because, luckily, you can arrive 30 minutes before or after your booked time.
We donned our jungle-themed outfits, bypassed pres because it was 7PM (and we're very out of practice after six months), hopped on the 100 bus and arrived outside of Glow at a bright and early 7.27PM. Standing outside the doors, we had to phone our fourth housemate and tell him not to come after all because we discovered the whole party has to arrive together – which was a bit of a downer.
Painfully sober and already down one teammate, we strutted into the new Glow.
Now, there is a quote from Bridget Jones' Baby where Bridget asks her midwife, Emma Thompson, if the father can be present at the birth. Emma Thompson, in one of her most memorable lines, warns Bridget that her own husband described watching her give birth like "watching his favourite pub burn down."
Walking into the building where so many of my favourite (and wildly inappropriate) drunk memories have happened, I finally understood what Emma Thompson's fictional husband was talking about.
Sure, there's the bar and there's the enjoy it all on the wall in neon and there's the staircase that everyone's fallen down at some point. But it's not the same.
There are tables spaced apart and screens between them all and more facemasks than I can count. It's so distanced that I can see the floor for the first time in my life and there are taped arrows on it, directing people one way up and down the bar.
Just when I'm about to turn around and walk right back home, a member of the security team greets us with a wave and a, "Alright? Enjoying your night?"
I'm so taken aback that anyone can be this cheerful when the nightclub where my flatmate once iconically got concussion twice has been completely gutted, that I nod and say, "Yeah, not too bad," on instinct.
He directs us to our table, pulls out three chairs and tells us, "Now, Boris says no dancing in the aisles but there's no reason you can't have a boogie in your chair." (He promptly becomes my favourite person that night.)
So, we order a round of Jägerbombs to the table (and thank the gods that the two for £5 deal is still on) and try to accustom to this new world. Glow might be changed but it's still as hard as ever to hold a conversation so we resorted to playing some drinking games.
There are inflatable tigers hanging from the ceiling and costumed dancers dressed as monkeys roaming around the club breakdancing. The playlist is actually popping and it isn't long before I am having a boogie in my seat to WAP. Someone in the booth opposite us spills a drink right across the floor and laughs so hard that he falls under the table – it feels almost nostalgic.
The TV screens are showing the safety warning and new restrictions, there's hand sanitizer on the door and toilets cordoned off upstairs to keep social distancing. And I am not hating it.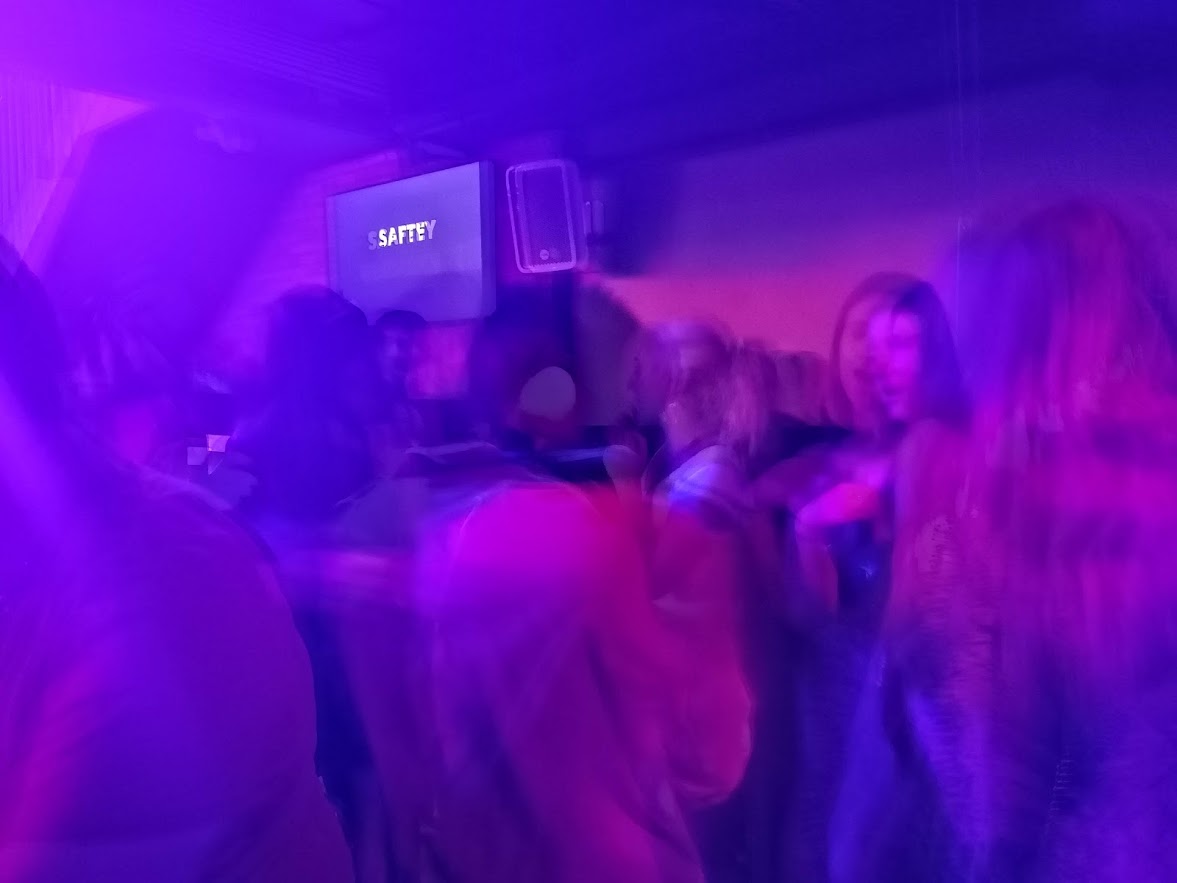 I speak to one of the managers halfway through the night about the new restrictions and how the club has changed.
"The government keeps bringing out new guidelines which can be hard to keep up with but we're dedicated to doing what we do and providing this experience for Lancaster so we'll make the effort to follow the new restrictions as they come out.
"We've put more security on each night to uphold the guidelines and make sure everyone's enjoying themselves but being sensible about it. We've always worn bodycams but now we wear them to prove that we're following guidelines.
"The council visits on random nights to double check as well; a lot is going into how careful we are that we can stay open and make sure that students have the freshers experience they deserve.
"I'm even walking around the club with this," he says, showing me a decibel meter tracking the volume in the club, "because council rules say we can't go over a certain limit with recorded music. We're really not taking any liberties. We're putting a lot of effort into making sure we meet all of the criteria."
Glow Nightclub will be continuing with the same weekly schedule we all know and love after freshers week: Skint Mondays, Social Wednesdays, Epic Fridays and Love Saturdays. Except, these will be events with a difference. A £10 wristband will buy entry, 4 drinks and 1 shot on the upcoming two Wednesdays and Saturdays.
Visit Glow's Facebook and Instagram page for more information.