Morecambe kids gets creative
554 total views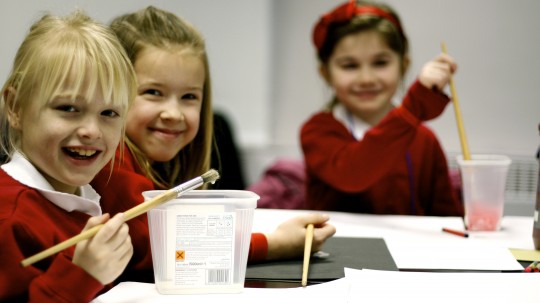 Children from three Morecambe primary schools visited the University to celebrate the success of the Creative Arts Project conducted in their respective schools by Lancaster University Volunteering Unit (LUVU).
The 95 pupils from Morecambe Bay, Trumacar and West End primary schools presented three musical performances to LUVU volunteers and staff. The shows were made possible with help from LUVU volunteers, the University of Lancaster Music Society (ULMS) and More Music, a community musical group based in Morecambe. The performances were presented in the Great Hall on Tuesday morning of Week 17.
A Year Three teacher from Morecambe Bay Primary, Brendan Cronin, commented: "What a pleasure it was to see the children having so much creative freedom and deciding how their performance would take shape for themselves."
The Morecambe Bay Primary children presented a samba performance, with complete costume, assisted by ULMS. The pupils from Trumacar Primary delivered their rendition of the children's classic Peter and the Wolf while West End Primary performed Morecambe Town, their own original composition about the resort. The final number was composed by the pupils together with Geoff Dixon from More Music.
LUVU schools and events coordinator, Joe Bourne, told SCAN: "The show was fantastic, it is always great to see children gain experience of performing on a big stage but the performances had an element of professionalism that we have not achieved before.
"Not only was it enjoyable for the children performing but it was also a great show for anyone watching. It was funny, moving and very loud," he added.
Since January, LUVU volunteers have been visiting these primary schools as part of the Creative Arts Project. The volunteers spent an afternoon at each school where they introduced basic musical elements and helped the schoolchildren explore music in a fun and creative way. The project emphasised the fact that regardless of ability or access to instruments everybody can make and enjoy music.
The Creative Arts Project, started by LUVU in 2002, is aimed at encouraging children to use their imagination and be inventive. The project also incorporates creative arts as a medium to discuss issues pertinent to children such as bullying and the environment. In this project, LUVU volunteers conduct various educational activities at local primary schools. This year the project saw the participation of 10 schools and about 340 pupils.
On the reasons for targeting primary schoolchildren, Bourne said "Children must be given chances to be creative for many reasons. It can often be a way to break down barriers to other subjects. For example if a child struggles with maths or finds it difficult to explain a complicated concept then using art and music can often make it more accessible.
"Not only do I think it is important for children to be given opportunities to be creative but I also believe the project allows them to make their own decisions. It is entirely up to them the shape their performance takes and they have to work as a team," he added.