General Election In Summary: What Happened In Lancaster Last Night?
1,291 total views
Lancaster and Fleetwood have re-elected Cat Smith of the Labour Party as their member of Parliament. Smith received 21,184 votes.
The Conservatives' Louise Thistlethwaite received 18,804 votes, the Liberal Democrats' Peter Jackson gained 2,018, the Brexit Party's Leanne Murray had 1,817, and the Green Party's Caroline Jackson claimed 1,396.
While in Morecambe and Lunesdale, the Conservative candidate David Morris won the seat with 23,925 votes, compared with 17,571 for Labour, 2,328 for the Liberal Democrats, 938 for the Green Party and Independent Darren Clifford won 548.
The exit poll conducted by Ipsos Mori, released at around 10 pm, predicted a historic win of 368 seats for the Conservative party. Labour was predicted to win 191, the Scottish National Party 55, 13 for the Liberal Democrats, 3 for Plaid Cymru, 1 seat for the Greens and 0 for the Brexit Party. 22 seats went to other political parties.
The BBC Forecast Poll predicted Cat Smith of the Labour Party to hold the Lancaster and Fleetwood seat by 89%. David Morris of the Conservative Party was predicted to hold the Morecambe and Lunesdale seat by 99%.
The first result declared was Newcastle Central, where Labour's Chi Onwurah retained her seat with 21,568 votes. This announcement shortly followed by Houghton and Sunderland South, again a Labour hold, and Blyth Valley, which saw Conservative Ian Levy take the majority from Labour, which had held the seat since its creation in 1950.
The turnout for Morecambe and Lunesdale was 67.43%, with 45,448 votes cast in the constituency in total.
The turnout for Lancaster and Fleetwood was 64.7%, with 45,348 votes cast in the constituency in total.
In her re-election speech, Cat Smith stated 'Democracy only works when there is a choice on the paper'.
Overall, Conservatives gained the majority by 5 am after gaining 326 seats.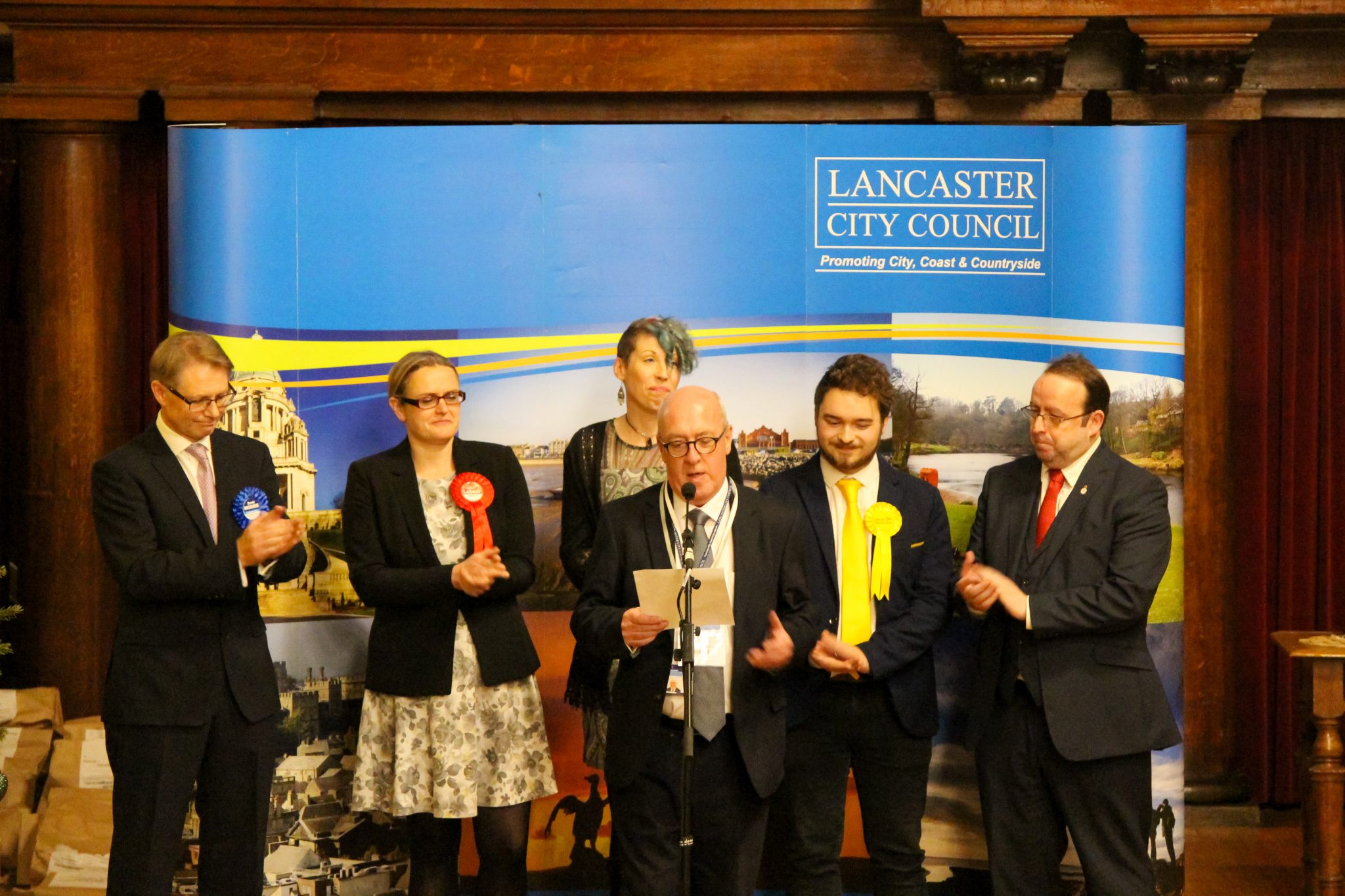 Key events from the event included:
23:40: Blyth Valley, a constituency held by Labour since its creation in 1950, was won by a Conservative candidate, Ian Levy.
22:32: Vote counting began for Lancaster and Fleetwood.
1:12: The turnout for Morecambe & Lunesdale was announced – 67.43%, with 45,448 votes cast in total.
2:18: Police began investigating numerous allegations of voting fraud in the Paisley and Renfrewshire North, Glasgow Central, Glasgow North, Glasgow South, and Stirling constituencies.
2:31: Conservatives caught Labour, with both at 45.
2:35: Conservatives widened their lead at 52, with Labour at 49. Liberal Democrats win their first seat.
2:52: Labour's Ruth Smeeth called for Jeremy Corbyn to resign as Labour party leader after losing her seat to the Conservatives.
3:39: Conservative Paul Howell took Tony Blair's old seat of Sedgefield from Labour's Phil Wilson.
3:55: Leader of the Liberal Democrats Jo Swinson lost her Dunbartonshire East seat to the Scottish National Party by a narrow 149 votes.
3:59: In Morecambe & Lunesdale, Conservative MP David Morris held the seat, and in Lancaster & Fleetwood, Labour MP Cat Smith held the seat.
5:05: Conservatives reached 326 seats – enough to declare an overall majority and form a government.
By News Editor Ezra James West & Associate Editor Olivia Kenny