Charity Shop Challenge – Brought to you by LA1:TV
606 total views
In collaboration with LA1:TV, SCAN is giving you behind the scenes info from LA1's newest show, Lancaster Life. The show will feature a fashion segment on, as you can probably guess, all things fashion! Brought to you by Imogen Greig and Christine Hawkins, the girls have each undertaken a fashion challenge. You can watch the first episode out now on the LA1:TV website and read all about how the girls got on below!
When you walk down Lancaster High Street you can't help but take note of how many charity shops there are, but how often do you go in them? It's funny how vintage shops are considered to be cool whilst charity shops tend to get a negative image, as the idea of wearing clothes once owned by someone else seems almost unbearable. I do understand people's general preference for vintage shops, as it's probably easier to find what you're looking for in a vintage shop than a charity shop. The suppliers are more likely to understand the tastes and preferences of the customer, while in a charity shop you're more than likely going to have to rummage through twenty Bonmarche size 26 tops before you find that single gem. Just think of it like Tinder, you've got to go through about 100 guys until you find that stunner in the bow tie (a shallow comparison I know, but it's something relatable). I am a charity shop lover for the simple reasons charity shops give you the ability to be creative, experiment with your style, and at an affordable price too.
As a fellow student myself, I understand the wanting and drooling over that £80 suede skirt in Topshop, the hours spent internet shopping, adding £400 worth of clothing to your cart, only to exit the tab and be left to cry into your pillow for a few hours. I'm aware that the struggle is very real. But I do believe it doesn't have to be this way, an open mind and compromise is the difference between you having your dream wardrobe and the wish list you created but will never get anything from on the ASOS website.
I've taken it upon myself to prove to you all that it is possible to find good things in charity shops at an affordable price. Brought to you by LA1:TV, I have been challenged to create a whole outfit from a local charity shop for less than £15. For the first show, I created a look that incorporated this season's trends and brands you may not expect to see in a charity shop. My chosen charity shop this week was The Children's Society in Lancaster town centre and my total outfit cost £12.
I picked up a beautiful black turtleneck, originally from Wallis, and paired it with an elegant light blue shirt from Topshop. Consider swapping a scarf for a turtleneck this autumn as turtleneck jumpers are making a comeback and Collin Firth couldn't be happier! Neither can I given how exceptionally soft this jumper is. The pop of bright colour from the blouse makes the outfit a bit more exciting and also works well as a transitional piece for the springtime. The most expensive item, surprisingly, was the faux leather skort, costing £4.99 and originally from Primark. Appearing almost unnoticeable, the piece offers some different textures to the outfit making the whole look a little more interesting and edgy.
All the items I purchased looked hardly worn and of good quality. My favourite item was the Wallis jumper. Although it was a Size 18, the oversize trend is very in and it worked well when incorporated with the other items.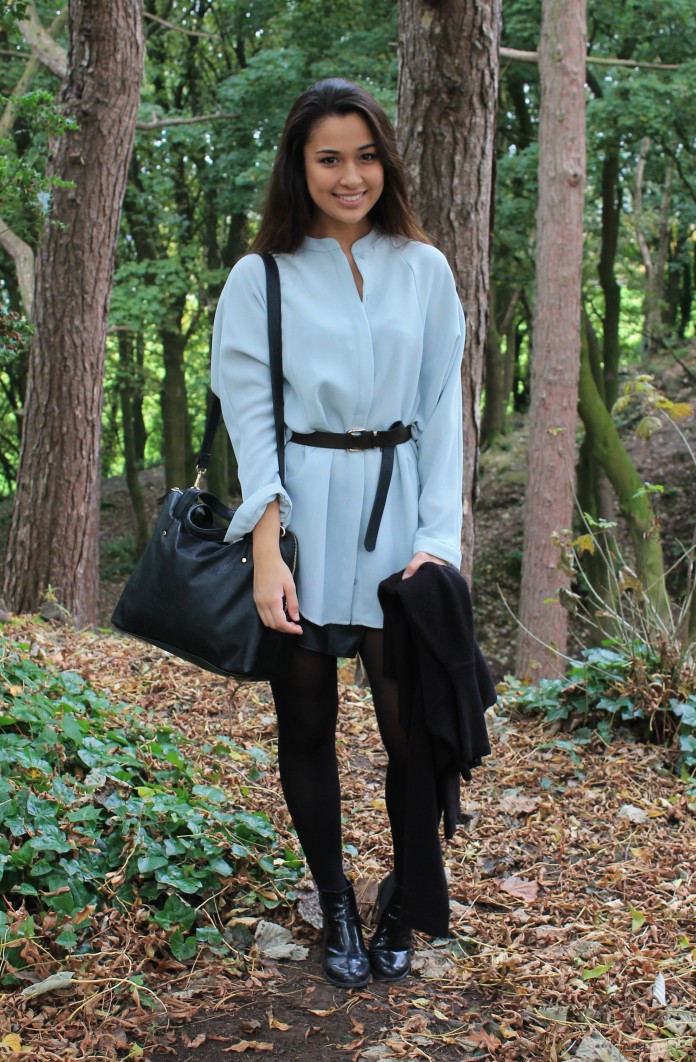 Make sure to look out for my next charity shop challenge and see what steals I've found. And next time you're in town, pop into a charity shop and see what bargains you can uncover!